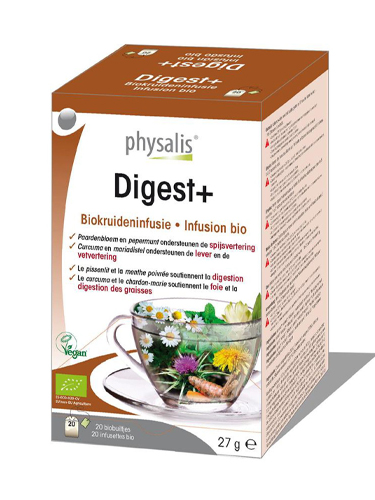 PHYSALIS Infusion Digest+ (27g)

Quick overview
Dandelion and peppermint support digestion
Turmeric and Milk Thistle Support the Liver and Fat Digestion

3,74 €
$ 4.11
$ 5.46
3.7400002975

Ship to

calculate shipping cost
Secure and reliable payment with

PHYSALIS Infusion Digest+
Too fast, too fat, or just too much ... Our lifestyle often causes a feeling of bloating and heaviness in the stomach. Physalis Digest + organic herbal infusion contains dandelion, peppermint, and chamomile which support digestion. Turmeric and milk thistle support the liver and aid in the digestion of fat. Sweet and pleasant taste.

For balanced digestion, limit portion sizes, pay attention to the quality and variety of your diet and take the time to eat well. Avoid foods that are too spicy or too fatty, as well as alcohol and coffee.

Advice for use
Pour boiling water over the bag and let steep for 5 minutes. Up to 3 cups a day.

Cautionary note
Do not use as a substitute for a balanced and varied diet.
Do not exceed the recommended daily dose. Contains licorice - people with high blood pressure should avoid excessive consumption. Store in a cool (max. 25 ° C), dry place and protected from light.