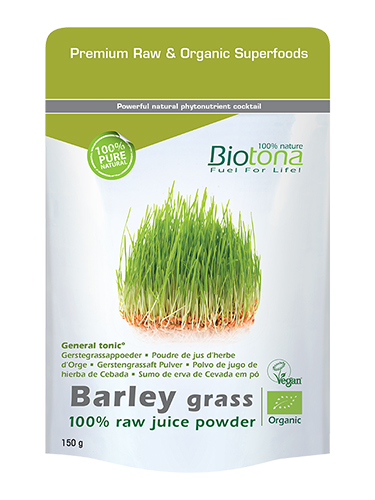 BIOTONA Barley Grass (150g)

Quick overview
Take advantage of this concentrated source of vitality to live fully and healthily.
21,06 €
$ 23.17
$ 30.75
21.06
16,85 €
$ 18.54
$ 24.60
16.85

Ship to

calculate shipping cost
Secure and reliable payment with

BIOTONA Barley Grass
Discover BIOTONA Barley Grass, a concentrate of vitality in every drop. This organic barley grass juice is made from young barley shoots, harvested when their phytonutrient content reaches its peak. Through a careful process of harvesting and processing into powder, all the vitamins, minerals and enzymes naturally present in barley grass are preserved. The result ? A superfood exceptionally rich in nutrients, identifiable by its intense green color, a distinctive sign of its high chlorophyll content, also known as plant hemoglobin.

With BIOTONA Barley Grass, choose natural nutrition and boost your health every day. Take advantage of this concentrated source of vitality to live fully and healthily.
Ingredients
Barley grass (Hordeum vulgare) (100%) from the United States (grown according to the principles of organic farming).
Allergen information
BIOTONA Barley Grass is free from common allergens such as gluten, dairy, eggs, nuts and soy. It is suitable for people with food sensitivities and specific diets.
Advice for use
To get the most out of the benefits of this superfood, we recommend taking 1 to 2 servings per day. You can mix them easily with water, juices, smoothies or other drinks of your choice. BIOTONA Barley Grass fits perfectly into your daily routine to help you maintain your vitality and well-being.
Cautionary note
Store this product in a cool, dry place away from direct sunlight.
Consult a healthcare professional before starting any new dietary supplement, especially if you are pregnant, breastfeeding, taking medical treatment, or have specific medical concerns.
Keep out of reach of children.