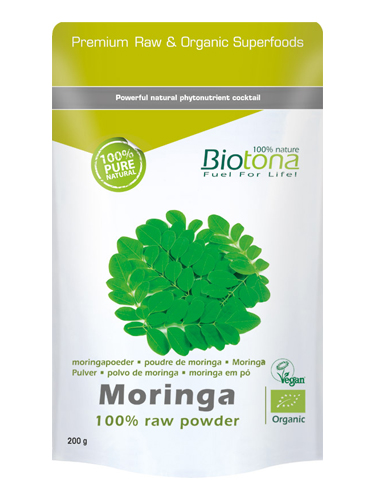 BIOTONA Moringa Powder (200g)

Quick overview
High in plant-based proteins and phytonutrients
100% natural product
Organic
Vegan

29,70 €
$ 32.67
$ 43.36
29.69999953

Ship to

calculate shipping cost
Secure and reliable payment with

BIOTONA Moringa Powder
Biotona Bio Moringa Raw is made from the leaves of the Moringa oleifera, a fast-growing tree that thrives on dry, sandy soils in (sub) tropical regions. Because almost every part of the tree can serve as food (ingredient), it is deservedly named a "wonder tree". Even in the Ayurveda, the traditional canon of Indian medicine, moringa is described as a natural remedy for numerous diseases. Moringa was recently rediscovered by science and the Western world, and is now regarded by many as the most ideal and complete food source on earth. Moringa leaves have a wide nutritional profile, are rich in proteins and are packed with phytonutrients. Biotona Moringa is made from 100% organic moringa leaves which, after harvest and careful washing, are dehydrated so that their full nutritional value is retained.

Ingredients
Moringa leaves powder* (Moringa oleifera) (100%). *organic culture

Advice for use
Add Biotona Bio Moringa Raw to smoothies or shakes in combination with fruit (juices) or other superfoods, (vegetable) milk, yoghurt or water. In this way you can add a healthy ingredient to all your dishes - quick and easy. Store in a cool and dry place, protect from light.

Cautionary note
Do not use as a substitute for a balanced and varied diet.