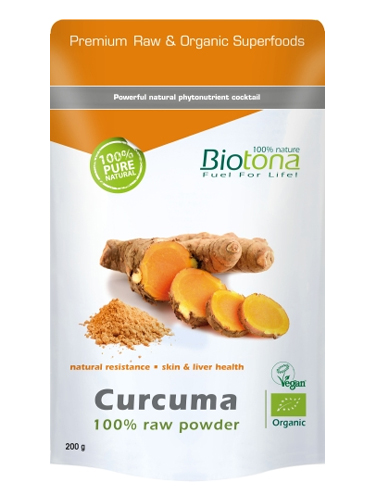 Quick overview
Natural resistance
Skin and liver health
100% natural product
Organic
Vegan

13,00 €
$ 14.30
$ 18.98
13.0
11,05 €
$ 12.15
$ 16.13
11.0499998045

Ship to

calculate shipping cost
Secure and reliable payment with

BIOTONA Curcuma
Curcuma or yellow root is a plant famed for the yellow-orange spice that is made from its roots. In addition to its delicious flavour, the root of Curcuma longa supports the flexibility and health of your joints. It is also good for the liver (stimulates fat digestion) and helps to maintain both healthy skin and a healthy nervous system. It further increases the body's natural resistance and protects cells against free radicals. The curcuma roots used for Biotona Bio Curcuma Raw are 100% organically grown. Immediately after harvesting, they are selected and dried, before being processed into a powder that is very similar to the fresh root in terms of flavour, smell and colour. The drying process also ensures that all the naturally present nutrients and phytonutrients are maximally retained.

Ingredients
Turmeric powder* (Curcuma longa) (100%). *organic culture

Advice for use
Add Biotona Bio Curcuma Raw to smoothies or shakes in combination with fruit (juices) or other superfoods, (vegetable) milk, yoghurt or water. In this way you can add a healthy ingredient to all your dishes - quick and easy. Store in a cool and dry place, protect from light. It is important to eat a varied and balanced diet and to lead a healthy way of life.

Cautionary note
Do not use as a substitute for a balanced and varied diet.