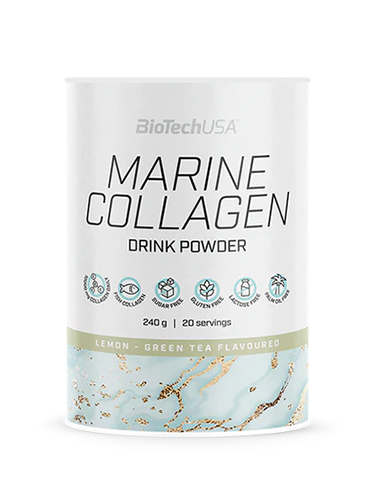 BIOTECH USA Marine Collagen (Green Tea Lemon, 240g)

Quick overview
A refreshing, flavored powdered drink containing marine collagen, vitamin C, sugar and sweeteners.
30,90 €
$ 33.99
$ 45.11
30.9

Ship to

calculate shipping cost
Secure and reliable payment with

BIOTECH USA Marine Collagen
Discover BIOTECH USA Marine Collagen - The Beauty Elixir for Radiant Skin
Are you looking for a solution for glowing skin and overall well-being? Do not look any further ! BIOTECH USA Marine Collagen is the answer to your skin care and health needs.
A Power of 10 g of Hydrolyzed Marine Collagen
Each serving of BIOTECH USA Marine Collagen contains 10g of the highest quality hydrolyzed marine collagen. Collagen is essential for maintaining the youth and elasticity of your skin, as well as strengthening your bones, cartilage, teeth and gums.
A Vitamin C Boost
Enriched with 40 mg of vitamin C per serving, this Marine Collagen contributes to the normal formation of collagen, thus promoting a radiant complexion, healthy blood vessels, and increased vitality.
An Exceptional Formula, Without Compromise
Sans lactose : Contains less than 0.1 g of lactose per 100 ml of ready-to-drink drink.

Sans gluten : Complies with European Union regulations.

Without sugar : Less than 0.5 g of sugars per 100 ml of ready-to-drink drink.

Fat free: Less than 0.5 g of fat per 100 ml of ready-to-drink drink.

Without palm oil.

Easy to Integrate into Your Daily Life
Who is BIOTECH USA Marine Collagen for?
For those looking for a product based on marine collagen highly concentrated in active ingredients.
For those who prefer a powdered drink with a refreshing taste compared to a capsule formulation.
For older generations who want to support their overall health.
For women and men of all ages looking to supplement their diet effectively.
BIOTECH USA Marine Collagen is much more than just a food supplement. It is a delicious lemony green tea flavored drink that can become an essential part of your daily beauty routine.
Ingredients
Hydrolyzed fish collagen 84%, flavors, acidifiers (malic acid, citric acid), bulking agent (polydextrose), sweetener (sucralose), Vitamin C (L-ascorbic acid), beet concentrate powder [maltodextrin, beet concentrate , acidifier (citric acid)], dyes (carotenes, copper complexes of chlorophylls and chlorophyllins), salt.
Allergen information
Made in a facility that uses milk, eggs, soy, peanuts, celery, fish, shellfish, molluscs and sulfur dioxide!

Advice for use
Prepare your daily dose of wellness by simply mixing 12g (3 level tablespoons) of collagen powder with 250ml of water in a shaker. It's quick, refreshing, and gives you a moment of pure indulgence for your skin.
Cautionary note
BIOTECH USA Marine Collagen is an addition to a balanced diet and healthy lifestyle. It does not in any way replace these practices.