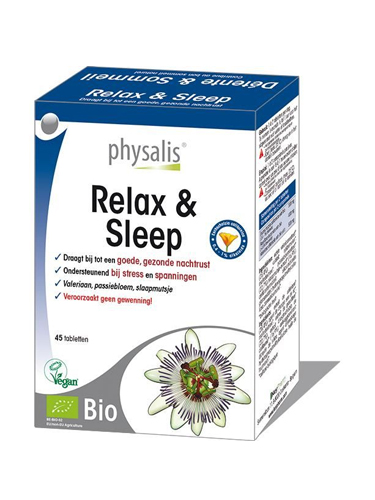 PHYSALIS Relax & Sleep (45 Tabs)

Quick overview
Contributes to good natural sleep
Supports relaxation and relaxation
Valerian, passionflower, eschscholzia
Does not cause any dependency

16,60 €
$ 18.26
$ 24.24
16.60000015

Ship to

calculate shipping cost
Secure and reliable payment with

PHYSALIS Relax & Sleep
Plant-based food supplement

Physalis Organic Relaxation & Sleep promotes relaxation and contributes to a restful sleep. Stress and insomnia are common symptoms in our modern society. But nighttime rest is essential to maintain health. During times of stress and tension, we find it difficult to sleep because we dwell on for hours all our worries of the day. Physalis Organic Relaxation & Sleep contains valerian, passionflower, and poppy which have always been known for their action to support the relaxation and relaxation of body and mind. These plants thus contribute in a 100% natural way to make us fall asleep. Nothing could be nicer than waking up in the morning well-rested and starting your day in a good mood and full of vitality!

Advice for use
Take 1 to 2 tablets per day in the evening 30 minutes to 1 hour before going to sleep with a glass of water or an infusion.

Cautionary note
Do not use as a substitute for a balanced and varied diet.
Do not exceed the recommended daily dose. Do not use if pregnant or breasfeeding. Not suitable for children under 12. Store in a cool (max. 25 ° C), dry place and protected from light.