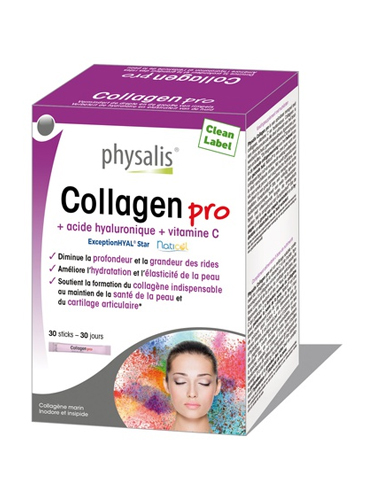 PHYSALIS Collagen Pro (30 Sticks)

Quick overview
Reduces the depth and size of wrinkles
Improves skin softness and elasticity
Supports the formation of collagen essential for maintaining skin health

28,90 €
$ 31.79
$ 42.19
28.900000000000002
24,56 €
$ 27.02
$ 35.86
24.564999626000002

Ship to

calculate shipping cost
Secure and reliable payment with

PHYSALIS Collagen Pro
Physalis Collagen pro is a soluble blend containing collagen, vitamin C, and hyaluronic acid. Collagen is a structural molecule in the connective tissue of the skin, joint cartilage, ligaments, tendons, and bones. Vitamin C promotes the normal formation of collagen, to preserve the health of the skin. Naticol® is an extremely pure form of type I collagen from fish, which has been proven to work in various studies. It is produced by an exclusive enzymatic hydrolysis process which produces a mix of easily assimilated short peptides. ExceptionHyal® Star, a full spectrum hyaluronic acid complex, is composed of a series of hyaluronic acids of different lengths that work in synergy. ExceptionHyal® Star has been shown to decrease the depth and size of wrinkles while improving skin smoothness and elasticity.
Indications:
- To reduce the size and depth of wrinkles
- To improve hydration, elasticity, and firmness of the skin
- To provide a nice glow and even complexion
- To generate an antioxidant and anti-inflammatory action
- To improve joint flexibility
- To positively influence bone density as well as strength and muscle mass
- To increase the bioavailability and absorption of calcium

Ingredients
Collagen hydrolySate (type I) (Naticol), vitamin C, 2nd generation hyaluronic acid "full spectrum"

Advice for use
Take 1 to 2 sticks per day. Mix the contents of a stick into a fruit juice, coffee, soup or any other drink, yogurt or smoothie.

Cautionary note
Do not use as a substitute for a balanced and varied diet.
Do not exceed the recommended daily dose.Keep out of reach of children.
Store in a cool (max. 25 ° C), dry place and protected from light.