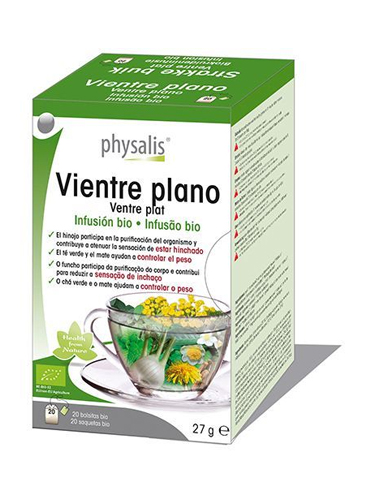 PHYSALIS Infusion Ventre Plat (27g)

Quick overview
Fennel contributes to the purification of the body and to reduce the feeling of bloating
Green tea and mate help in weight control


4,40 €
$ 4.84
$ 6.42
4.40000035

Ship to

calculate shipping cost
Secure and reliable payment with

PHYSALIS Infusion Ventre Plat
Intestinal fermentation caused by poor digestion generates gas which in turn gives a feeling of bloating. Physalis Flat Belly infusion of organic plants contains fennel which supports the purification of the body and helps to reduce the feeling of bloating and swelling of the stomach. Lemon balm, mint, and dandelion help to digest well. Green tea and mate support fat burning and thus help in weight control. Sweet and pleasant taste.
Physalis Flat Belly must be combined with a healthy and balanced diet and sufficient physical exercise. Drink two litres of water a day.

Ingredients
Fennel, lemon balm, mint, dandelion, green tea, and mate

Advice for use
Pour boiling water over the bag and let steep for 5 minutes. Up to 2 cups in the evening.

Cautionary note
Do not use as a substitute for a balanced and varied diet.
Do not exceed the recommended daily dose. Contains caffeine, not recommended for children, pregnant and breastfeeding women. Contains licorice - people with high blood pressure should avoid excessive consumption. Store in a cool (max. 25 ° C), dry place and protected from light.