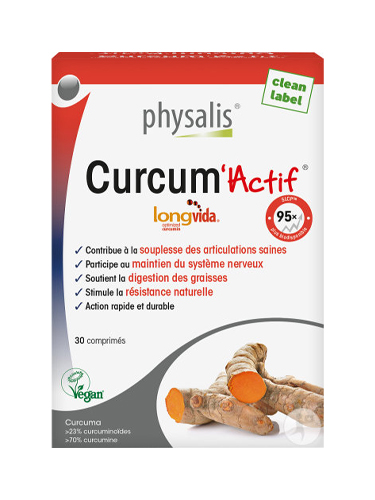 PHYSALIS Curcum'Actif (30 Tabs)

Quick overview
Contributes to the flexibility of healthy joints
Supports fat digestion
Helps with the maintenance of the nervous system
Stimulates natural resistance
Fast and long-lasting action

19,80 €
$ 21.78
$ 28.91
19.80000003

Ship to

calculate shipping cost
Secure and reliable payment with

PHYSALIS Curcum'Actif
Physalis Curcum'Actif® contains 400 mg of Longvida®, a patented and intensively studied curcuminoid complex in fat-soluble particles (SLCP ™). This special formulation ensures that curcumin is 95 times more bioavailable than in its non-optimized form and stays in the body for 24 hours. Curcuma longa root is not only a very popular spice in cooking, but also an excellent spice that preserves the health and flexibility of healthy joints, which supports liver function (fat burning), which contributes to the health of the skin. and the nervous system and stimulates natural resistance.

Ingredients
Optimised Curcuma longa extract (Longvida®; >23% total curcuminoids; >70% curcumin)

Allergen information
May contain traces of soy

Advice for use
Take 1 tablet per day with a meal with a glass of water.

Cautionary note
Do not use as a substitute for a balanced and varied diet.
Do not exceed the recommended daily dose.Keep out of reach of children. Do not use if pregnant or breastfeeding. If you are using anticoagulants, ask your doctor or pharmacist before using this supplement.
Store in a cool (max. 25 ° C), dry place and protected from light.