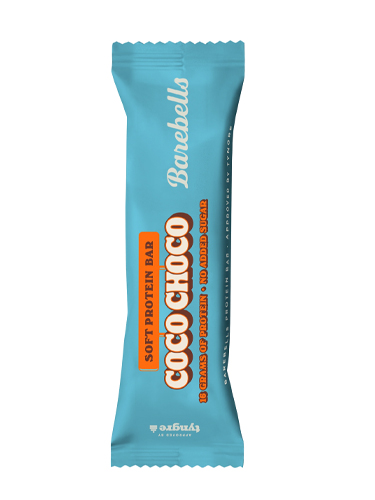 BAREBELLS Soft Protein Bar (Coco Choco, 55g)

Quick overview
Barre riche en protéines extrêmement délicieuse. 28% de protéines. Sans sucre ajouté. Chocolat au lait crémeux au caramel
2,59 €
$ 2.85
$ 3.78
2.59

Ship to

calculate shipping cost
Secure and reliable payment with

BAREBELLS Soft Protein Bar
Ultra smooth protein bar made with creamy milk chocolate and delicate caramel.
With the Barebells Soft Protein Bar, conventional protein bars are a thing of the past. If you like creamy and delicate chocolate, the soft protein bar is an absolute taste highlight.
In addition to its incredibly delicious and unprecedented taste, the Barebells Soft Protein Bar also convinces with 28% protein and only 2g sugar per bar.
Whether for sports, leisure or work, or as a high-protein snack, the Soft Protein Bar is suitable for chocolate lovers without a guilty conscience.
Ingredients
Milk protein, sweeteners (maltitol, xylitol, sucralose), bulking agent (polydextrose), collagen hydrolyzate, humectant (glycerin), cocoa butter, whole milk powder, sunflower oil, cocoa mass, lean cocoa, flavorings , emulsifier (lecithin, soy lecithin), salt.

Allergen information
May contain traces of cereals containing gluten, eggs, peanuts, nuts and sesame seeds.
Advice for use
Consume a bar based on your personal protein needs.
Cautionary note
We recommend a balanced and varied diet and a healthy lifestyle. Dietary supplements are not intended to replace meals, but only to supplement the diet when needed. Keep out of reach of children.