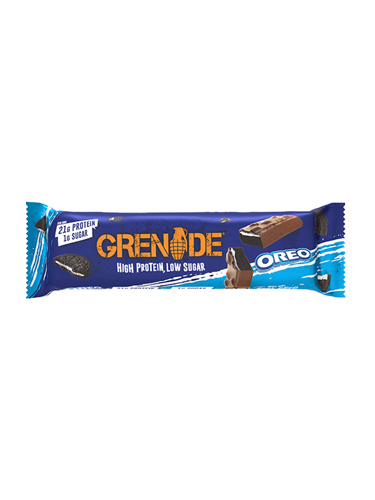 GRENADE Carb Killa Bar (Oreo, 60g)

Quick overview
The iconic Carb Killa bar. High in protein and low in sugar.
2,69 €
$ 2.96
$ 3.93
2.69

Ship to

calculate shipping cost
Secure and reliable payment with

GRENADE Carb Killa Bar
Grenade Carb Killa is made using a special cooking process, resulting in a softer, crispier texture and exceptional taste. Carb Killa is high in protein and fiber but low in carbs.
Delivering over 23 grams of protein per bar, Grenade Carb Killa provides balanced sources of complete protein, while limiting the level of refined and simple sugars.
The protein blend consists of whey protein isolate, calcium caseinate and milk protein isolate.
Ingredients
Reference Flavor: Cookies & Cream
Milk Protein (Calcium Caseinate, Milk Protein Isolate, Whey Protein Isolate), Milk Chocolate (18%) (Sweetener: Maltitol, Cocoa Butter, Whole Milk Powder, Mass cocoa powder, emulsifier: soy lecithin, flavourings), filler: polydextrose, gelatin hydrolyzate, humectant: glycerol, soy protein, cocoa butter, soybean oil, palm fat, sweeteners: xylitol & sucralose, skimmed milk powder , reduced fat cocoa, cream powder, tapioca starch, salt, emulsifier: soy lecithin, flavorings
Caution: Ingredients vary slightly depending on flavor.
Allergen information
Contains milk and soy.
Advice for use
Consume 1-2 Grenade Carb Killa bars daily.
Cautionary note
We recommend a balanced and varied diet and a healthy lifestyle.