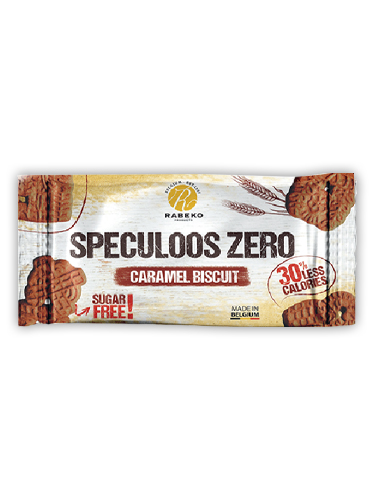 RABEKO Speculoos Zero (Caramel Biscuit, 200g)

Quick overview
A light and tasty version of the classic speculoos

4,19 €
$ 4.61
$ 6.12
4.19

Ship to

calculate shipping cost
Secure and reliable payment with

RABEKO Speculoos Zero
Discover the delicious RABEKO Speculoos Zero, a lighter and tasty version of the classic speculoos. With 0.3% sugar, with no added sugar, this speculoos offers you a healthier gourmet option without sacrificing authentic flavor. Not only does it contain 30% fewer calories than the classic speculoos you find in stores, but it is also lower in fat. Plus, each 200g packet contains 10g of protein for a satisfying snack. It's the perfect treat to satisfy your sweet cravings without the guilt.
Ingredients
Wheat flour

Sweetener (maltitol)

Margarine

Colza oil

Palm oil

Water

Emulsifier (mono and diglyceride)

Acidifier (citric acid)

Egg

Water

Cocoa powder

Malt (gluten)

Raising agent (sodium bicarbonate)

Speculoos spices
Allergen information
This product contains wheat, egg and gluten. Please see ingredient list for details on potential allergens.
Advice for use
RABEKO Speculoos Zero is perfect to enjoy as a snack or to accompany your coffee or tea. It can also be used as a topping for desserts, yogurts or milkshakes. Store it in a cool, dry place.
Cautionary note
Not suitable for people with allergies to wheat, eggs or gluten.
Excessive consumption may have laxative effects due to the presence of polyols.
Be sure to close the package tightly to preserve the freshness of the product.
Young children should consume this product under adult supervision due to the potential risk of suffocation linked to its chunked format.