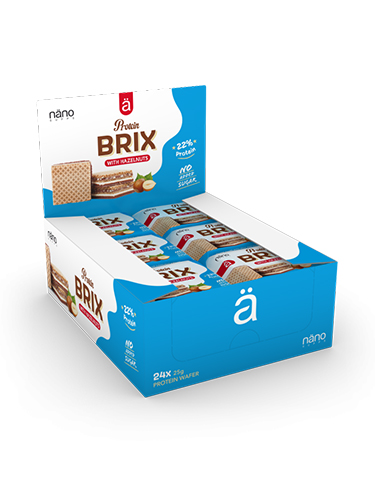 NANOSUPPS Ä Protein Brix 24x25g (Hazelnut)

Quick overview
Hazelnut flavored protein gaufrettes, low in sugar and high in protein (22%).
33,06 €
$ 36.37
$ 48.27
33.06

Ship to

calculate shipping cost
Secure and reliable payment with

NANOSUPPS Ä Protein Brix 24x25g
Discover the delicious Nanosupps protein wafers with a rich and tasty nutty taste! With their perfectly balanced blend of premium ingredients, these wafers are designed for lovers of healthy, indulgent snacks.
Nanosupps protein wafers are specially formulated to provide a convenient and nutritious solution for active people who want to support their healthy lifestyle. Each wafer is low in sugar, making it an ideal choice for those looking to reduce their sugar intake without compromising taste.
With an impressive 22% protein per wafer, these delicious snacks help you reach your nutrition and muscle-building goals. Protein is essential for muscle recovery and building tissue, making it a key component of a balanced diet.
Besides being a source of quality protein, Nanosupps wafers are also easy to take with you wherever you go. Whether at work, at the gym or on the go, they provide you with a convenient snack to satisfy your hunger and maintain your energy levels.
Succumb to the pleasure of a healthy and delicious snack with Nanosupps protein wafers. Give your body the nutrients it needs, while feasting on irresistible nutty flavor.
Ingredients
milk protein 18% [whey protein isolate(milk), casein (milk)], milk chocolate with 16% sweetener [sweetener (maltitol), palm fat, cocoa butter, cocoa powder,milk whole, cocoa mass, natural vanilla flavor, emulsifier (cithin ofmilitary)], wheat flourwheat, oligofructose, concentrated butter (milk), foot ofhazelnut 4,6%, milk skimmed powder 3.7%, hazelnut2.8%, emulsifiers (lecithin frommilitary, lecithin), lean cocoa powder, coconut oil, free-range egg yolk, color (caramel), flavouring, salt, sweetener (sucralose), flour treatment agent (ascorbic acid).
Allergen information
For allergens, see ingredients in bold. May contain other nuts.
Cautionary note
Store in a cool, dry place away from direct sunlight. This product is intended to be used in addition to an active lifestyle and a balanced diet. Suitable for vegetarians.