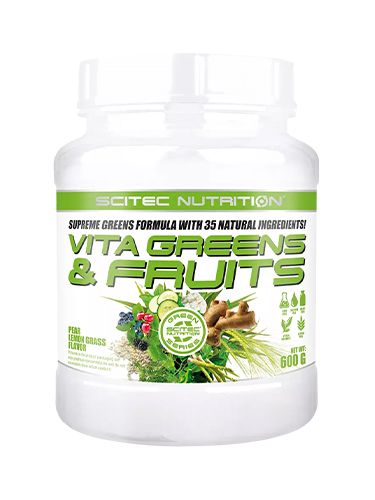 SCITEC NUTRITION Vita Greens & Fruits (600g)

Quick overview
Supreme greens formula with 35 natural ingredients!
33,99 €
$ 37.39
$ 49.63
33.99

Ship to

calculate shipping cost
Secure and reliable payment with

SCITEC NUTRITION Vita Greens & Fruits
VITA GREENS & FRUITS is SCITECT NUTRITION supreme greens formula with many natural ingredients, vitamins and minerals. Vitamins and minerals are basic essential nutrients that must be adequately taken in for optimal health and high level sports performance. Many people struggle eating all their veggies and fruits due to various reasons (e.g.: dislike of taste, lack of time, you name it!), but now here's some help!
VITA GREENS & FRUITS contains 18 different vegetable and 8 different fruit sources in one serving! Digestive enzymes and Astragin® are also added to the formula.
VITA GREENS & FRUITS has a good dose of "adaptogen" plants as well. Wheat grass and Spirulina help to control weight by reducing the sense of hunger. Rheishi mushroom contributes to natural immunological defenses. Barley grass protects cells from oxidative damage.
VITA GREENS & FRUITS - among other micronutrients - features the B-Complex vitamins and Vitamin C, plus essential minerals including Selenium and Zinc. Vitamin C contributes to the normal function of the immune and nervous systems, and to the reduction of tiredness and fatigue*. Vitamin D contributes to the maintenance of normal muscle and immune system function, and to the normal absorption and utilization of Calcium and Phosphorus.* Vitamin K2 contributes to normal blood clotting and to the maintenance of normal bones.* Zinc contributes to normal fertility, reproduction and to the maintenance of normal testosterone levels, and also to normal macronutrient metabolism.* Magnesium contributes to normal functioning of the nervous system: neurotransmission and muscle contraction including heart muscle; also to normal protein synthesis and to the maintenance of normal bones and teeth.* Selenium contributes to normal spermatogenesis, to normal thyroid function and to the maintenance of normal hair, nails.*
*These statements have been authorized by the European Food Safety Authority
Ingredients
Flavors (Pear, Lemon Grass), Organic HiFiber VitaBerry® Powder Blend (Organic Apple [Fruit Pulp], Organic Strawberry, Organic Tart Cherry, Organic Blackberry, Organic Blueberry, Organic Raspberry, Organic Banana, Organic Rice), Organic HiFiber VitaVeggie® Freeze-dried Vegetable Powder Blend (Organic Apple [Fruit Pulp], Organic Beet, Organic Carrot, Organic Spinach, Organic Broccoli, Organic Tomato, Organic Kale, Organic Cabbage, Organic Parsley Leaf, Organic Brussel Sprouts, Organic Green Bell Pepper, Organic Cucumber, Organic Celery, Organic Garlic, Organic Ginger Root, Organic Green Onion, Organic Cauliflower, Organic Asparagus, Organic Pea), Apple Fiber, Arthrospira platensis (Whole Plant) Powder, Dextrose, Inuline, Acidity Regulator (Citric Acid Anhydrous), Emulsier (Soy Lecithin Powder), Thickener (Xanthan Gum), Chlorella vulgaris Powder, Hordeum vulgare (Herb) Powder, Triticum aestivum (Herb) Powder, Calcium Carbonate, Magnesium Carbonate, Ganoderma lucidum Karst. (Fruit Body) Powder, Sweeteners (Sucralose, Acesulfame K), L-Ascorbic Acid, Ferrous(II)-Fumarate, Bromelain extracted from Ananas comosus (1200 GDU/g), Papain extracted from Carica papaya (1.5 FIP U/mg), DL-Alpha-Tocopheryl Acetate, Zinc Sulfate Monohydrate, Nicotinamide, Menaquinone-7, Sodium Molybdate, Retinyl Acetate, Sodium Selenite, Calcium D-Pantothenate, Manganese Sulfate Monohydrate, D-Biotin, AstraGin® Proprietary Blend (Panax notoginseng [Root] 10:1 extract; Astragalus membranaceous [Root] 50:1 extract), Pteroylmonoglutamic Acid, Cholecalciferol, Copper(II)-Sulfate Pentahydrate, Pyridoxine HCl, Riboflavin, Thiamine Mononitrate, Potassium Iodide, Cyanocobalamin, Chromium Picolinate
Advice for use
Mix 1 serving (20 g) with 300 ml water daily. Use 30 minutes before a meal. Not intended as a sole source of nutrition!
Cautionary note
Use this product in conjunction with food as part of a healthy, balanced diet, not as a substitute for such. KEEP OUT OF REACH OF CHILDREN! Don't exceed the recommended daily dosage!