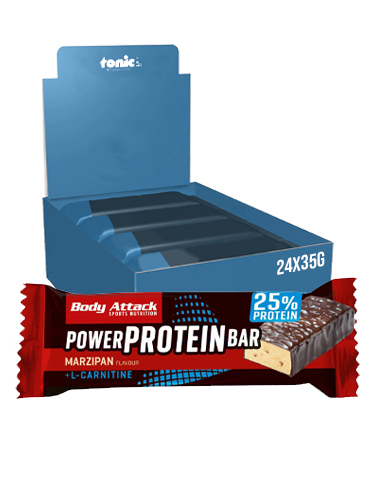 BODY ATTACK Power Protein Bar 24x35g (Marzipan)

Quick overview
Protein bars with vitamins. With L-carnitine for fat metabolism. 25% high quality milk protein.
BODY ATTACK Power Protein Bar 24x35g
Protein and snacking? In pocket format! Here is the POWER PROTEIN BAR. This protein bar contains a generous portion of protein, valuable vitamins, L-carnitine. This bar is the perfect protein snack.
Chewable protein. Coated in crunchy chocolate, the POWER PROTEIN BAR lives up to its name. A whopping 25% of high quality milk protein is included in each bar to help maintain muscle.
Aren't you when you're hungry? Then grab the POWER PROTEIN BAR. The advantages are obvious. With 146 kcal, the bar is the perfect opponent against voracious appetites and is very easy to transport. The ideal snack to stay on track and a real alternative to your protein shake.
Ingredients
Glucose Syrup, Dark Chocolate Coating (17%) (Cocoa Mass, Sugar, Cocoa Butter, Emulsifier (Soy Lecithin ), Vanilla Extract), Fructose Syrup, MilkConcentrate Whey, Fat Vegetable (Palm), Hydrolyzed Collagen (Beef), Highly Defatted Cocoa Powder, Acidity Regulator (Tricalcium Citrate), L-Carnitine (0.6%), Flavouring, Color (Ordinary Caramel), L-Ascorbic Acid, DL-alpha-tocopherol, D-calcium pantothenate, pyridoxine, thiamin hydrochloride, Riboflavin, Vegetable oil (Palm).
Allergen information
May contain traces of gluten, egg, peanuts and other nuts.