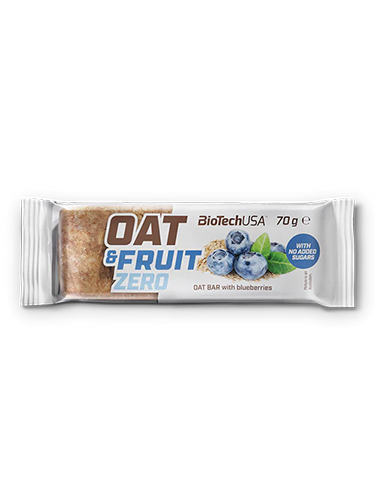 BIOTECH USA Oat & Fruit Zero (Blueberry, 70g)

Quick overview
An Explosion of Natural Energy
BIOTECH USA Oat & Fruit Zero
Oat&Fruit Zero Bar from Biotech USA - An Explosion of Natural Energy
Are you looking for an instant energy source to recharge your batteries throughout the day or before your workout? Do not look any further ! Discover the Oat&Fruit Zero bar from BioTechUSA, the perfect answer to your fast carbohydrate needs.
This delicious energy snack contains no added sugar, but gets its sweet taste from delicious dates and raisins. Blueberries and raspberries balance the flavors of this bar while pumpkin seeds give it a crunchy texture and a source of plant-based fat.
The Oat&Fruit Zero bar is also suitable for vegetarian diets, making it an ideal choice for a wide audience.
Why choose the Oat&Fruit Zero bar from Biotech USA:
Immediate source of energy in bar form

No added sugar*

No artificial sweeteners

Natural sweet taste thanks to dates and raisins

Crunchy texture thanks to pumpkin seeds

Suitable for vegetarian diets

*Contains naturally occurring sugars.
Who is the Oat&Fruit Zero bar for:
For those looking for a no added sugar oatmeal bar

For those who avoid artificial sweeteners

Ideal for those who need an instant source of energy

Perfect for those who want to enjoy oats in a way other than porridge

Add the Oat&Fruit Zero bar from Biotech USA to your cart now to benefit from a natural, healthy and delicious source of energy at any time of the day!
Ingredients
Oat flakes (gluten) (45%), vegetable oils non-hydrogenated vegetable oils (palm, rapeseed)], chicory fiber, Sultane raisins (Sultane raisins, sunflower oil), pumpkin seed, date, humectant ( glycerol), freeze-dried blueberries (1%), freeze-dried raspberries, natural flavor.
Allergen information
Made in a factory that uses grains containing gluten, peanuts, peanuts and sesame seeds.

Advice for use
You can enjoy the Oat&Fruit Zero bar at any time of the day, whether before an intense workout, as a mid-morning snack or to satisfy a little hunger. Always keep one handy, whether in your bag, desk drawer or gym bag.