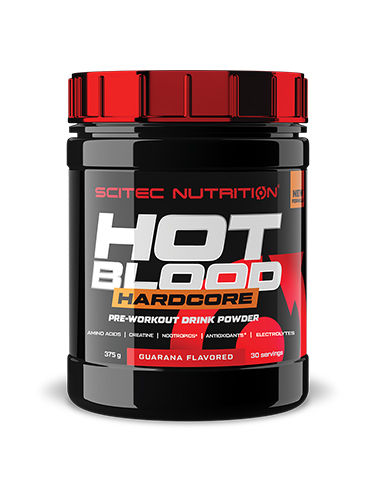 SCITEC NUTRITION Hot Blood Hardcore (Pink Lemonade, 375g)

Quick overview
One of the most sought after forms of creatine, renewed amino acid matrix, 300mg of caffeine from different sources, with electrolytes, with antioxidant complex.
19,99 €
$ 21.99
$ 29.19
19.990000000000002
16,99 €
$ 18.69
$ 24.81
16.9915

Ship to

calculate shipping cost
Secure and reliable payment with

SCITEC NUTRITION Hot Blood Hardcore
Exercise is not just work. Exercise is fun. We love it when blood is flowing through our veins and we keep pushing until we are exhausted. This is the feeling that drives us! You provide dedication, determination. We offer you Hot Blood Hardcore!
The renewed active ingredient complex of HOT BLOOD HARDCORE supports your body during physical exertion and high intensity training, as the 3g of creatine in the product is scientifically proven to increase performance during sequential efforts, short duration and high intensity such as strength training or interval cardio! * Vitamin B6 and niacin contribute to the normal functioning of the nervous system. * Chromium is involved in the normal metabolism of macronutrients. * Biotin is involved in the normal metabolic processes of energy production. * Vitamin C contributes to the protection of cells against oxidative stress. * Folate, vitamin B12 and vitamin A contribute to the normal functioning of the immune system. *
* Scientifically based claims approved by the European Food Safety Authority (EFSA).
** Compared to previous versions of the product
Vitamin B6 and niacin contribute to the normal functioning of the nervous system
Vitamins C and E help protect cells against oxidative stress.
Ingredients
Maltodextrin, creatine monohydrate 13.6%, dextrose, L-arginine hydrochloride, bulking agent (polydextrose), beta-alanine , L-arginine alpha-ketoglutarate, L-citrulline, L-tyrosine, flavor, malic acid, calcium salts of orthophosphoric Acid, Acid (Citric acid), Sodium citrate, Anti-caking agent (Silicon dioxide), Anhydrous caffeine 1 , 1%, Acetyl L-Carnitine hydrochloride, Magnesium carbonate, Sweeteners (Acesulfame K, Sucralose), Taurine, Green tea leaf extract, L-glutamine, L-ascorbic acid, L-leucine, L- hydrochloride ornithine, acidity regulator (sodium carbonates), calcium -hydroxy β-methylbutyrate, L-carnitine L-tartrate, Ginkgo biloba leaf extract, guarana seed extract, ginger Rhizome extract, Nicotinamide, Zinc Bisglycinate , DL-Alpha-Tocopheryl Acetate [DL-Alpha-Tocopheryl Acetate, Antiaggloméran t (Silicon Dioxide)], L-Valine, L-Isoleucine, Choline Bitartrate, Colorants (Carmoisine, Ponceau 4R) 4, grape seed extract, L-lysine hydrochloride, anhydrous betaine, alpha Li poic acid, nicotinic acid, retina acetate, Bioperine® black pepper fruit extract, pyridoxine hydrochloride, D-biotin, pteroylmonoglutamic acid, chromium picolinate, cyanocobalamin. 4Carmoisine, Ponceau 4R: May have an adverse effect on activity and attention in children. WARNINGS: High in caffeine [150 mg of caffeine / serving (75 mg of caffeine / 100 ml of ready-to-drink product)]. Not recommended for children or pregnant women. Not recommended for people with heart disease, high blood pressure or caffeine sensitivity.
Allergen information
Advice for use
Mix 2x1 serving (2x12.5g, 2x1 scoop) of Hot Blood Hardcore powder with 2x200ml of cold water per day. The drink is slightly carbonated, so open the cap every 5 seconds while shaking to avoid accidents. Consume one serving 30 minutes before training and one serving during training.

Cautionary note
Warning: High in caffeine [150 mg of caffeine per serving (150 mg of caffeine / 200 ml of ready-to-drink drink). Not recommended for children, pregnant or breastfeeding women, people with heart disease, high blood pressure or sensitivity to caffeine. Consumption of this product is not a substitute for a varied and balanced diet and a healthy lifestyle
Alternative Products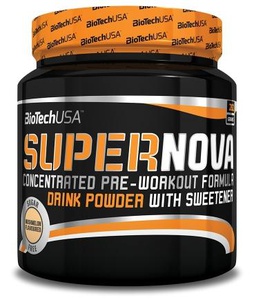 19,47 €
$ 21.41
$ 28.42
19.465000000000003
22,90 €
$ 25.19
$ 33.43
22.900000000000002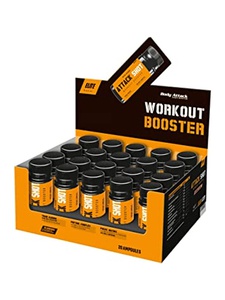 32,14 €
$ 35.35
$ 46.92
32.138500119
37,81 €
$ 41.59
$ 55.20
37.81