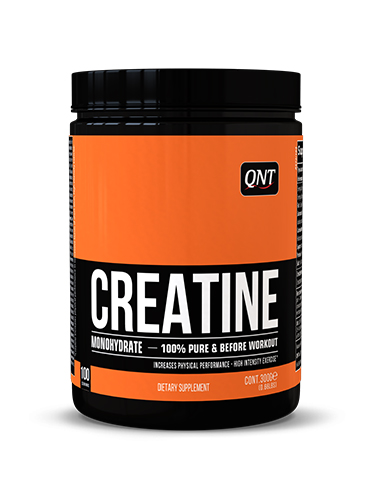 QNT Creatine Monohydrate (300g)

Quick overview
Contributes to improving performance. Increase muscle congestion. Contributes to better recovery
9,27 €
$ 10.20
$ 13.53
9.27

Ship to

calculate shipping cost
Secure and reliable payment with

QNT Creatine Monohydrate
Creatine monohydrate powder is the ideal supplement for athletes who want to improve their strength or explosiveness. The creatine we offer is pure and ideal in combination with intensive short series workouts. It also allows better recovery after exercise. Creatine powder is the ideal supplement for athletes who want to improve their performance or who want to take it to a new level.
HIGH QUALITY PURE CREATINE MONOHYDRATE
Creatine is a substance that can be supplied through foods such as meat or fish. It can also be naturally synthesized by the body via certain organs such as the liver and pancreas. Creatine is derived from 3 amino acids which are: arginine, glycine and methionine. It has many advantages to optimize your workouts. Indeed, by increasing the stocks of creatine in the body, its contribution will improve sports performance.
Once absorbed, creatine monohydrate is mainly stored in the muscles. By taking 3g of creatine monohydrate in combination with short intense exercise training, you will improve your physical abilities. It will play a role in the supply of energy and in muscle congestion.
WHY TAKE CREATINE?
The pure creatine monohydrate that we offer you will have many benefits in improving your workouts. Its intake, ideal in case of successive series of intense exercises will allow you to improve your physical performance. The effects of creatine will accelerate muscle development by providing energy, strength and endurance to the muscles.
Creatine monohydrate releases energy by accelerating the synthesis of ATP that it causes in the body. As ATP stocks are quickly depleted, taking creatine is essential to increase their production and provide additional energy. This gained energy will allow a gain of explosiveness during your training.
In addition to improving your physical performance, creatine monohydrate will also promote protein synthesis. This action allows you to gain muscle volume in addition to boosting physical recovery. The feeling of fatigue will then be reduced and you will be able to train more intensely.
CREATINE FOR WHOM AND WHEN?
By providing you with energy to tackle your workouts in addition to contributing to better recovery, creatine is ideal if you are doing a workout that requires intense exercise. Its grip will allow you to be ready to attack your next training series.
Taking creatine is ideal if you are looking to progress and are stagnant. Thanks to its many advantages, its action within your muscles will allow you to take an additional level by breaking the glass ceiling you are facing. Since creatine is found almost exclusively in meat or fish, its intake is also ideal for vegetarians who may be deficient and want to achieve optimal levels of creatine.
Powdered creatine monohydrate improves physical performance during short, but intense sets of exercise. To get the most of its action, it is advisable to take it before exercise, that is to say just before your training. For an optimal effect, a 4 week cure is recommended and can be repeated several times during the year.
Advice for use
The beneficial effect is obtained by the daily consumption of 3g of creatine, combined with very intense physical exercises. mix 3g per day in water or fruit juice before exercise for a maximum of 4 weeks
Cautionary note
Food supplement that cannot replace a varied and balanced diet and a healthy lifestyle. Keep out of the reach of young children. Do not exceed the recommended dose.