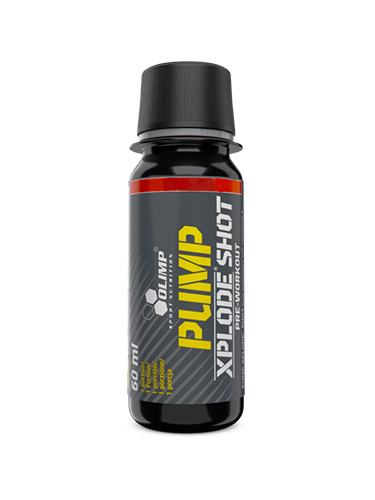 OLIMP SPORT NUTRITION Pump Xplode Shot (Fruit Punch, 60ml)

Quick overview
The perfect partner for your workout routine.
2,19 €
$ 2.41
$ 3.20
2.19

Ship to

calculate shipping cost
Secure and reliable payment with

OLIMP SPORT NUTRITION Pump Xplode Shot
Pump Xplode® Shot is a high-quality liquid dietary supplement designed to support athletic performance and mental well-being. This powerful formula contains a combination of key ingredients including L-citrulline, L-arginine, vitamin B6, as well as herbal extracts such as sage and Bacopa monnieri. Available in two refreshing flavors: Fruit Punch and Orange, the Pump Xplode® Shot is the perfect partner for your workout routine.
Ingredients
Water

L-citrulline

L-arginine hydrochloride

Acidity corrector: citric acid

Natural aromas

Sage extract (Salvia officinalis L., leaf)

Water hyssop extract (Bacopa monnieri (L.) Wettst., herb)

Thickener: sodium carboxymethylcellulose

Sweeteners: sucralose, acesulfame-K

Preservative: sorbic acid

Color: carotenoids

Pyridoxine hydrochloride – vitamin B6
Allergen information
This product does not contain common allergens, but it is recommended to consult the ingredient list if you have specific food allergies.
Advice for use
To maximize the benefits of Pump Xplode® Shot, take 1 ampoule (60 ml) approximately 30 minutes before your workout. Be sure to shake the product well before use. It is essential not to exceed the recommended daily dose. Food supplements should be included in a healthy lifestyle and should not replace a balanced and varied diet.
Cautionary note
This product is intended for physically active adults.

Do not use this product if you are a child, pregnant or breastfeeding woman.

It is not recommended in cases of hypotension.

Avoid simultaneous use with medications, especially for hypertension.

Before you start using the product, consult a healthcare professional or dietician.

Keep this product out of the reach of children.

The formation of crystallization and precipitation in the product is a natural phenomenon that does not affect its quality.