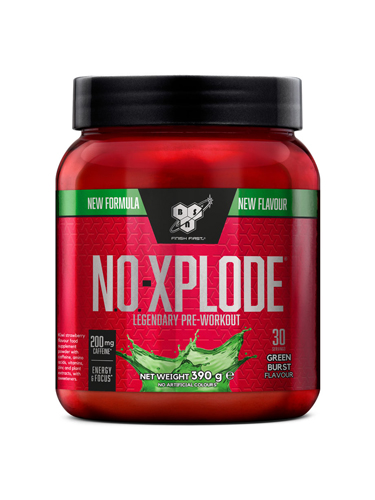 BSN NO-Xplode (Green Burst, 390g)

Quick overview
BSN Nutrition's No-Xplode 3.0 is a concentrated pre-workout formula to achieve maximum cell and muscle volume and promote focus.

24,95 €
$ 27.45
$ 36.43
24.95

Ship to

calculate shipping cost
Secure and reliable payment with

BSN NO-Xplode
This new formula contains 6g of L-citrulline for extreme congestion, contains 3.2g of beta alanine for ever more intense workouts, and 200mg of rhodiola rosea per dose.
The nervous system stimulation complex has been enhanced with the addition of 200mg of caffeine and 50mg of choline. Choline is a component of acetylcholine, the main neurotransmitter for muscle activity.
This reformulation has improved flavors and textures but above all a maximum increase in Caffeine and Beta Alanine as well as the addition of L-Citrulline, Rhodiola Rosea and Zinc. It also includes Grapefruit Bioflavonoids.
NO-XPLODE contains all the factors for increasing muscle volume: a matrix to drastically raise NO levels (muscle congestion as well as muscle strength and anabolism) and a matrix to give you energy to the workout and allow you to perform the extra reps that will trigger muscle growth.
Ingredients
L-citrulline, beta-alanine, acidifiers (L (+) - tartaric acid, citric acid), anti-caking agents (silicon dioxide, calcium silicate), flavors, caffeine, acid L-ascorbic, Rhodiola root extract
Advice for use
On training days, mix 3 scoops (13g) in about 350ml of water, and drink 15 to 20 minutes before training.

Cautionary note
Keep out of reach of young children. The recommended daily dose should not be exceeded. Food supplements should not be used as a substitute for a balanced and varied diet. We recommend a balanced and varied diet as well as a healthy lifestyle. If you have any health concerns or questions about use, consult a physician or nutritionist.