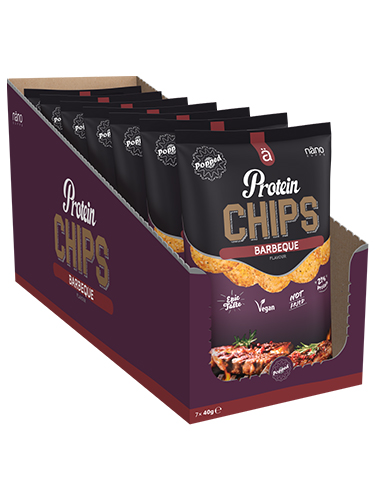 NANOSUPPS Ä Protein Chips 7x40g (Barbecue)

Quick overview
Vegetarian, crispy, 21% protein.
13,23 €
$ 14.55
$ 19.32
13.23

Ship to

calculate shipping cost
Secure and reliable payment with

NANOSUPPS Ä Protein Chips 7x40g
The new nanosupps chips will not leave you indifferent. Low in sugar and fat, high in protein and above all delicious, they all have to become one of your favorite protein snacks.
Ingredients
BBQ:
Rice flour 31%, chickpea flour 28%, dehydrated potato 10%, pea protein 10%, BBQ seasoning 9% (sugar, salt, paprika, dextrose, tomato, onion, yeast extract, spice, acidity regulator (E330, E262), caramelized sugar, flavouring, spice extract (paprika, smoke flavouring), potato starch 7%, sunflower oil* 7%
*Organic ingredients
Chili and lime:
rice flour 31%, chickpea flour 28%, dehydrated potato 10%, pea protein 10%, potato starch 7%, sunflower oil* 7%, sweet chili and lime seasoning 7% (sugar*, salt, tomato*, maltodextrin, lime*, onion*, paprika*, yeast extract*, lemon extract*, cayenne pepper*, garlic*,sunflower oil*, cumin seed*)
*Organic ingredients
Sour cream and onion:
rice flour 31%, chickpea flour 28%, dehydrated potato 10%, pea protein 10%, sour cream and onion seasoning 9% (whey powder (from milk), salt, onion, sugar, lactose, milk powder, yeast extract, cheese powder, garlic, acidifier (lactic acid), spice, flavouring), potato starch 7%, sunflower oil* 7%
*Organic ingredients