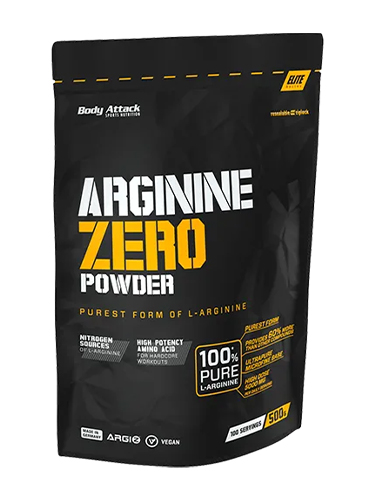 BODY ATTACK Arginine Zero (500g)

Quick overview
100% pure L-Arginine. Ideal for strenuous workouts
28,09 €
$ 30.90
$ 41.01
28.09

Ship to

calculate shipping cost
Secure and reliable payment with

BODY ATTACK Arginine Zero
L-Arginine Zero for one hundred percent ultra strong workouts! Are you looking for new workout highlights with bang effect? We have something for you. Extra high dosage - right up to the limit: Only L-Arginine ZERO in ultra-fine powder form can do that. The amino acid L-Arginine is the perfect supporter for new peak performances. Due to its vasodilating effect, it provides your muscles with more nutrients. The result? A pump effect that every fitness fan can only dream of. Treat yourself to your new extra motivation - the powder with the purest L-arginine on the market!
Ingredients
L-Arginine (ARGIZ®) (99.99%), Pyridoxine hydrochloride. Food supplement in powder form with L-Arginine and Vitamin B6.
Advice for use
On Training days take 5 g of powder (2 scoops) with plenty of liquid (300 ml) approx.
30 minutes before training. On non-training days, take directly after getting up in the morning or at bedtime. Do not exceed the recommended daily dosage.
Cautionary note
Food supplements should not be used as a substitute for a varied and balanced diet and a healthy lifestyle. Keep out of reach of small children. If kept unopened in a cool, dry place, best before end of/Lot No.: see imprint. Once opened, use up quickly. Keep away from direct heat and light.