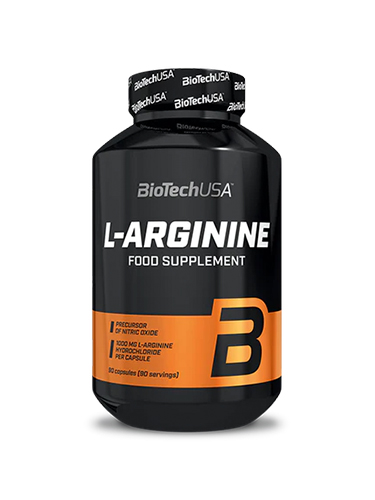 BIOTECH USA L-Arginine (90 caps)

Quick overview
A wise choice for endurance athletes and bodybuilders.
14,90 €
$ 16.39
$ 21.75
14.9

Ship to

calculate shipping cost
Secure and reliable payment with

BIOTECH USA L-Arginine
BIOTECH USA L-Arginine is a highly concentrated source of L-arginine HCl, an essential amino acid in sports nutrition. Each capsule contains a powerful 1000 mg dose of L-arginine hydrochloride, making it an ideal supplement for athletes and health-conscious individuals. Arginine is a key amino acid that plays an essential role in the synthesis of nitric oxide (NO), a vasodilator compound that promotes blood circulation and physical performance.

With 90 capsules per package, you have a sufficient supply to support your sports and health goals. L-arginine is a wise choice for endurance athletes, bodybuilders and those who prefer to avoid unnecessary additives in their dietary supplements. Make L-arginine an essential partner in your fitness and wellness routine today.
Ingredients
L-arginine hydrochloride (85%)
Capsule shell: gelatin, glazing agent (shellac), color (iron oxides and iron hydroxides), acidity regulator (ammonium hydroxide), acidity regulator (potassium hydroxide)
Anti-caking agents: magnesium salts of fatty acids, silicon dioxide
Allergen information
This product is made in a facility that uses milk, eggs, gluten, soy, shellfish, sulfur dioxide and peanuts. It is therefore appropriate for people with food allergies to take this into consideration.
Advice for use
For optimal results, take 1 capsule daily with a glass of water. It is recommended to take one capsule before physical activity on training days and before bed on rest days. Be careful not to exceed the recommended daily dose.
Cautionary note
Keep out of reach of children.
Food supplements should be used in addition to a balanced diet and a healthy lifestyle.
Consumption of this product is not recommended for pregnant or breastfeeding women and people suffering from hypertension.
Do not remove the silica sachet after opening.
Store tightly closed in a dry, cool place.