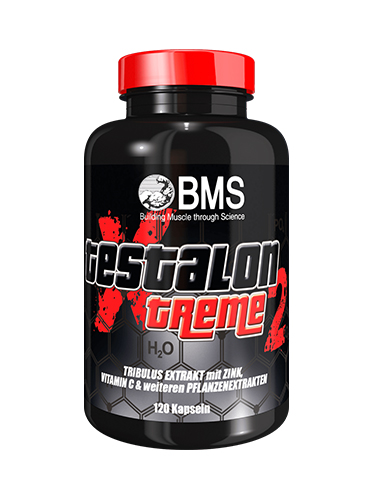 BMS Testalon Xtreme 2 (120 Caps)

Quick overview
Extract of Tribulus Terrestris. Natural testosterone booster with vitamin C, E and zinc.
33,95 €
$ 37.35
$ 49.57
33.95

Ship to

calculate shipping cost
Secure and reliable payment with

BMS Testalon Xtreme 2
NEW TESTALON XTREME 2 contains a special blend of processed herbs, vitamins and zinc. Zinc helps maintain normal blood testosterone levels, fertility and reproduction, cell division, protein synthesis, carbohydrate and fat metabolism, and cell protection in case of oxidative stress. Vitamin C contributes to the normal functioning of the immune system, the formation of collagen in blood vessels, bones, cartilage function, energy metabolism, reduction of fatigue and exhaustion.
Ingredients
Bulking Agent (Microcrystalline Cellulose), Tribulus Terrestris Extract (80% Saponins), Hydroxypropyl Methylcellulose (Capsule), Maca Powder, Green Oat Extract (Avena Sativa), Fenugreek Extract, Zinc Gluconate, Potency Wood Extract (Muira Puama), release agent, magnesium salts of fatty acids, silicon dioxide), soy lecithin, L-ascorbic acid, D-alpha tocopheryl acetate, pepper extract. Traces of gluten cannot be excluded.
Advice for use
Consume 4 capsules once daily with some liquid between meals. Advanced athletes can consume 4 capsules up to twice a day.
Cautionary note
Food supplement based on zinc, vitamin C, vitamin E and plant extracts. Vegan. The recommended daily dose should not be exceeded. Dietary supplements should not be used as the sole source of nutrition. They do not replace a balanced and varied diet. A healthy lifestyle is recommended. Please keep the product out of the reach of children.
Alternative Products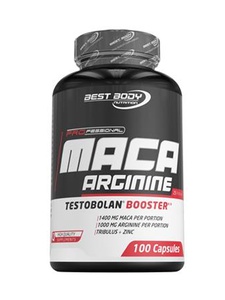 19,49 €
$ 21.44
$ 28.46
19.490000000000002