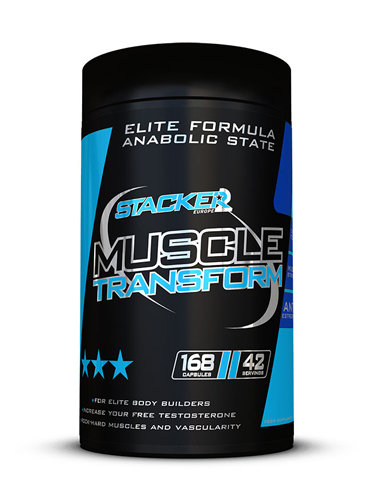 STACKER2 Muscle Transform (168 caps)

Quick overview
Muscle Transform drastically increases both the (free) testosterone level as well as the growth hormone level (HGH hormone)!
30,99 €
$ 34.09
$ 45.25
30.99

Ship to

calculate shipping cost
Secure and reliable payment with

STACKER2 Muscle Transform
Muscle Transform
Stacker2 Europe's Muscle Transform is the newest designer testosterone booster for both beginning and advanced bodybuilders. Innovation and results are top priority at Stacker2 Europe, as once again evidenced by the introduction of Muscle Transform.
Stacker2 Europe's research department was given the task of making a muscle enhancer that doesn't resemble any competitor products, with tribulus terrestris being the main ingredient every time.
Muscle Transform contains only scientifically proven ingredients that also have synergistic effects. And more importantly: These ingredients are also correctly dosed, in the right quantity at which they are active and effective on your muscles in order to transform them into nicer, stronger, rock-hard, pumped-up muscles like those you see in competitive bodybuilders.
Muscle Transform drastically increases both the (free) testosterone level as well as the growth hormone level (HGH hormone)! When trying to increase your muscle strength it is essential for the testosterone level to be increased and the cortisol level to remain low. Cortisol stands for stress and therefore muscle break-down, something which you absolutely don't want. Muscle Transform also suppresses the female (fattening) hormone estrogen. Thanks to Muscle Transform's revolutionary ingredient formula, the body gets into an anabolic state after only a few days of use, which naturally increases muscle strength and muscle mass without negative side-effects.
Muscle Transform properties

Drastically increases the testosterone level

Increases free testosterone

Increases muscle strength

Anti-estrogen

Increases vascularity

Rock-hard muscles

Increases libido

100% natural and safe

Increases endurance
Ingredients
Advice for use
Take 4 capsules before breakfast and 4 capsules just before sleeping (to achieve maximum results). You will feel effect after 7-10 days. Please use this product at least 6 weeks in a row to experience the maximum effect. 
Cautionary note
This is a food supplement. Food supplements should not be used as a substitute for a varied diet. This product is to be used in conjunction with a sensible diet and exercise program for best results. Please store in a cool, dry place and keep out of reach of children. This product is not intended for anyone under the age of 18. This product is not intended to diagnose, treat, cure or prevent any disease. Never exceed the recommended serving.