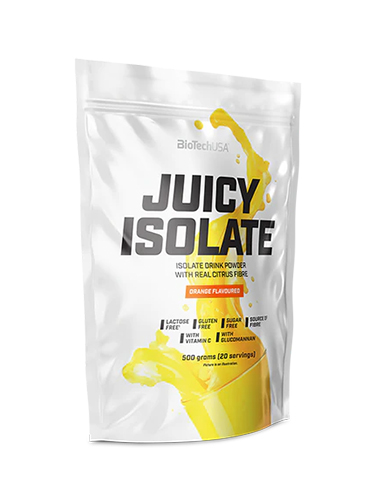 BIOTECH USA Juicy Isolate (Orange, 500g)

Quick overview
A refreshing alternative to traditional protein shakes
BIOTECH USA Juicy Isolate
BIOTECH USA Juicy Isolate is a revolutionary protein drink designed for fitness and healthy nutrition enthusiasts looking for a refreshing alternative to traditional protein shakes. This delicious drink combines an exceptional fruity taste with an exceptional nutritional composition. It is ideal for those who wish to maintain or increase their muscle mass while favoring a diet low in sugar, fat-free and rich in fiber. Plus, it's lactose-free, gluten-free and palm oil-free, making it a versatile choice for a wide range of nutritional needs.
With BIOTECH USA Juicy Isolate, you can enjoy a delicious refreshing drink while ensuring a source of quality protein, dietary fiber and a dose of vitamin C to support your immune system. It is the perfect option for those looking for freshness in their nutrition and training program.
Ingredients
Whey protein isolate (75.7%)

Instant whey protein hydrolyzate (10%)

Maltodextrin

Inulin

Natural aromas

Citrus fiber

Amorphophallus konjac root extract (0.9%)

L-ascorbic acid (Vitamin C)

Acidifier (citric acid)

Sweetener (sucralose)

Colorants (riboflavine, Tartrazine, Rouge Allura AC)

Anti-foaming agents (polydimethylsiloxane, silicon dioxide)
Allergen information
This product is made in a facility that uses milk, eggs, soy, peanuts, crustaceans, fish, molluscs, sulfur dioxide and peanuts.
Advice for use
Mix 1 dose of powder (25 g, equivalent to 2 heaped tablespoons) with 300 ml of water using a mixing glass. Once shaken, let the product sit for about a minute for the foam to settle. You can consume it any time you want something fresh. However, remember that this product does not replace a varied diet and a healthy lifestyle.
Cautionary note
Consumption of this food product should not replace a varied and balanced diet, nor a healthy lifestyle.
The product contains tartrazine and Allura Red AC, which may have adverse effects on activity and attention in children.