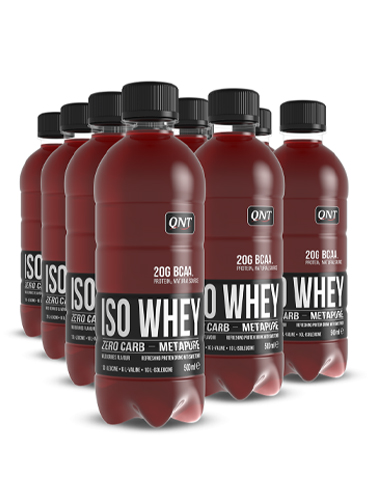 QNT Iso Whey Zero Carb Metapure 12x500ml (Wild Berry)

Quick overview
20g of whey protein isolate per serving. Contributes to muscle building. Helps in muscle recovery.
36,00 €
$ 39.60
$ 52.56
36.0

Ship to

calculate shipping cost
Secure and reliable payment with

QNT Iso Whey Zero Carb Metapure 12x500ml
Do you want to obtain an ideal intake of high quality protein while refreshing yourself? Discover without further delay the Iso Whey Protein drink with red fruits. This ready-to-drink, containing almost no sugar and lactose, allows you to provide 20 g of whey protein isolate. It is the flagship drink of the Metapure range, the purest protein on the market. Thanks to its many benefits, adding it to your daily life will allow you to achieve your goals.
With its formula exclusively composed of ultra-filtered whey protein isolate, this extremely refreshing drink will provide you with all the proteins and amino acids necessary to develop and maintain your muscle mass. Practical and easy to take with you, this drink will be the perfect solution to accompany you after your training sessions. With a natural BCAA content, this drink will be the ideal supplement to help you in your post-workout recovery. As you will have understood, this drink, an ideal combination of performance and flavor, will quickly become the essential partner for your training.
METAPURE: THE BEST WHEY PROTEIN ISOLATE
Each bottle of this Metapure drink provides you with 20 g of protein. As its name suggests, this drink comes from the Metapure range and is therefore composed of whey isolate, an ultra-filtered protein thanks to its modern low-temperature manufacturing process. Therefore, this protein is found devoid of carbohydrates, fats and contains almost no lactose (less than 1%). Being in its purest form, this protein will allow your body to benefit from a crucial intake of this nutrient which plays a crucial role in the construction and development of muscle tissue.
During a workout, your muscles face various shocks. Following this sports session, your muscle fibers, strongly stressed, will undergo micro-fissures. In order to repair, rebuild your muscles and gain muscle mass, protein intake is essential. Taking a ready to drink Iso Whey Protein right after your workout will allow you to fill up on protein, this essential fuel for your muscles to develop in the best possible way.
NATURAL BCAA CONTENT
The Iso Whey Protein drink also contains an ideal level of amino acids. Those present in this drink are the branched branch amino acids, called BCAA (L-Leucine, L-Isoleucine and L-Valine). Since they cannot be synthesized by the body itself, these essential amino acids must be provided through food. Particularly useful for the muscles, their contribution contributes to muscle building. Indeed, BCAAs preserve the integrity of your muscle fibers by promoting optimal protein synthesis within the muscles. In addition, their action will contribute to accelerating the recovery process after an effort. They will also help you during your most intense training sessions by reducing fatigue.
ALLY TO YOUR PERFORMANCE
With the Iso Whey Protein drink, you allow your muscles to fill up with nutrients that will help you reach and exceed your goals. Consumed directly after training, it will provide you with the adequate amount of proteins and amino acids necessary for the body. It is therefore the perfect ally for all athletes wishing to gain muscle mass or maintain their muscles.
Its practical and easy bottle format allows you to take it with you in your bag to accompany you during your sports sessions or to face your most intense days. In addition, its liquid format will facilitate its absorption for an ideal assimilation of its 20 g of protein. Easily digestible, this drink is ideal for muscle maintenance and growth and will help you tone up your daily life. Do not wait any longer, and adopt this drink, ideal for taking your results to the next level.
Ingredients
Water, whey protein isolate (milk), acidifier: E330, sodium citrate: E331, sweetener: E955, potassium sorbate: E202, colorants: E150d, E122, E102, E133, flavouring, sodium benzoate: E211.
Allergen information
Contains milk.

Advice for use
1 bottle per day between meals.