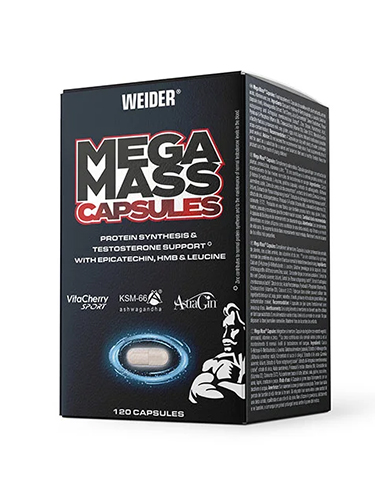 WEIDER Mega Mass Capsules (120 Caps)

Quick overview
Capsules with plant extracts, amino acids, vitamins and zinc to swallow.
32,39 €
$ 35.63
$ 47.29
32.39

Ship to

calculate shipping cost
Secure and reliable payment with

WEIDER Mega Mass Capsules
For decades, the Mega Mass name has been the epitome of a high-quality premium weight gainer for building muscle mass and strength. Now the legendary Mega Mass 2000 and 4000 shakes are growing - in the form of this brand new Mega Mass Capsules. The high-dose capsules are the perfect dietary supplement for muscle building - whether on their own or to supplement the popular Mega Mass powder.
Ingredients
Calcium ß-hydroxy-ß-methylbutyrate, L-leucine, gelatine (capsule shell), ashwagandha extract, sour cherry juice concentrate¹, green tea extract, extract from Panax notoginseng and Astragalus membranaceus², zinc citrate, pantothenic acid, vitamin B6, vitamin D3, coloring: E172.

Cautionary note
Dietary supplements should not be used as a substitute for a balanced and varied diet and a healthy lifestyle.
The product should be stored out of the reach of small children.