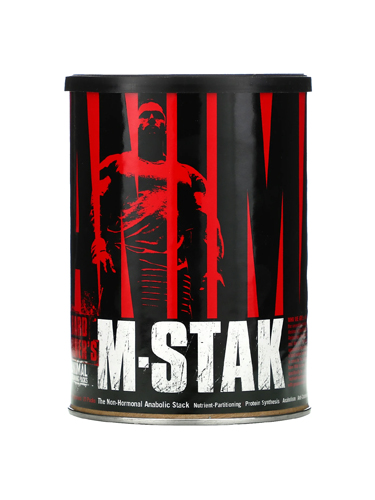 UNIVERSAL NUTRITION Animal M-Stak (21 sachets)

Quick overview
Without hormone. Increases insulin sensitivity. Intensifies the metabolism. Allows your body to absorb nutrients at a much more efficient rate.
41,90 €
$ 46.09
$ 61.17
41.9

Ship to

calculate shipping cost
Secure and reliable payment with

UNIVERSAL NUTRITION Animal M-Stak
You have trouble gaining mass despite eating and exercising intensely You are probably a "hard gainer". Animal M-Stak, a non-hormonal muscle building supplement, helps your anabolism without manipulating hormone levels.
Ingredients
Dicalcium phosphate, whey, microcrystalline cellulose, gelatin, stearic acid, magnesium stearate, titanium dioxide (CI 77891), brilliant blue FCF and lakes (CI 42090), red dyes and lakes (CI 16035), pharmaceutical coating.
Allergen information
Contains: milk and soy. Developed in a GMP compliant facility on equipment that processes milk, soy, eggs, peanuts, tree nuts, fish, seafood, and wheat.
Advice for use
Take one sachet for 21 consecutive days. On training days, take one sachet 30 to 45 minutes before exercise. On rest days, take one sachet between meals.
Cautionary note
This product contains powerful flavonoids and phytoecdysteroids. Consult your doctor before using this product, especially if you are undergoing medical treatment for any reason. Discontinue use if you experience nervousness, tremors, insomnia, loss of appetite, or nausea. This product is not intended for pregnant or breastfeeding women. This product is not intended for persons under the age of 18. This product may be banned by some sports associations or federations. Athletes should consult the body responsible for sanctions before use. Keep out of the reach of children. To keep the product as cool as possible, store it in a cool, dry place away from heat, moisture, and sunlight.