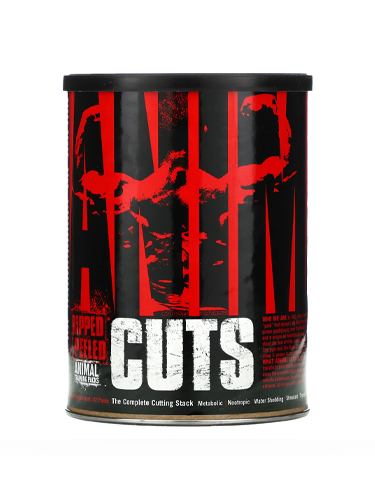 UNIVERSAL NUTRITION Animal Cuts 42 Packs

Quick overview
Diet and fat

Metabolic optimization

lossWeight loss

Muscle protection
Preparing for competition
41,90 €
$ 46.09
$ 61.17
41.9
35,62 €
$ 39.18
$ 52.00
35.615

Ship to

calculate shipping cost
Secure and reliable payment with

UNIVERSAL NUTRITION Animal Cuts 42 Packs
For the difficult phases of the diet, there is the perfect support from Universal Nutrition with Animal Cuts. The All-in-One Complex Food Supplement from the USA contains a full complex of active ingredients for your training goals. For over 10 years, Animal Cut has been one of the # 1 diet products in the United States among bodybuilders.
With Universal Nutrion Animal Cuts, you have the perfect "tool" for your diet phase.
Ingredients
gelatin, dicalcium phosphate, microcrystalline cellulose, magnesium stearate, stearic acid, titanium dioxide, E133, E129, E110, E127, E102.
Allergen information
May contain traces of crustaceans, soya and sulphites.

Advice for use
Take 2 bags per day for 3 weeks. 1 bag after getting up and the other 4-6 hours later. The bags should be taken with a small meal and you should drink enough while using the product. Follow a 3 week cycle then a 1 week break. After the week break, you can use it again. The stimulant complex is in the red capsule and the drainage complex is in the blue capsule.
Cautionary note
Do not exceed the recommended daily dose. Store in a cool, dry place. Food supplements are not a substitute for a varied and balanced diet and a healthy lifestyle. Keep out of the reach of children.