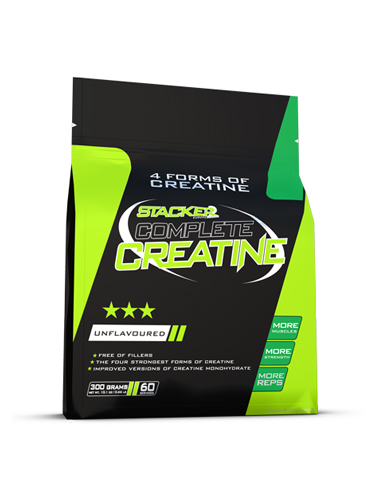 STACKER2 Complete Creatine (300g)

Quick overview
The four most potent and well-studied forms of creatine in one product!
24,90 €
$ 27.39
$ 36.35
24.9

Ship to

calculate shipping cost
Secure and reliable payment with

STACKER2 Complete Creatine
"Complete Creatine" contains the four most potent and well-studied forms of creatine in one product! By using Complete Creatine daily, you are guaranteed to experience more muscle power. You can train harder and go longer without suffering acidification. In order to experience this effect, you only need to take 5 grams dissolved in water, once or twice a day. "Complete Creatine" works immediately, without a loading phase.
The highest quality!
Complete Creatine is an improved version of creatine monohydrate. Benefit from less water retention and accelerated absorption. When you are looking for the highest quality supplement and you are looking for guaranteed results. You won't find a better product at this price.
Advice for use
As a dietary supplement for adults engaged in high intensity exercise, take one full scoop (5g), 30 minutes before training, with 250ml of cold water or protein shake. On non-training days, take 5g in the afternoon.
Cautionary note
This is a dietary supplement. Food supplements should not be used as a substitute for a varied diet. This product should be used in conjunction with a sensible diet and exercise program for best results. Please store it in a cool, dry place and out of reach of children. This product is not intended for persons under the age of 18. This product is not intended to diagnose, treat, cure or prevent any disease. Never exceed the recommended dose.