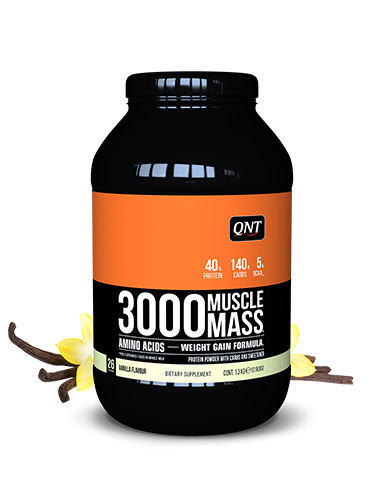 QNT Muscle Mass 3000 (Vanille, 1.3kg)

Quick overview
Ideal for muscle growth. Excellent blend of whey protein and carbohydrates. Rich in amino acids
QNT Muscle Mass 3000
Muscle Mass 3000 is ideal for people who find it difficult to eat large quantities to reach their caloric surplus and therefore gain mass. Thanks to its optimal composition not only rich in protein, but also in carbohydrates and amino acids, Muscle Mass 3000 stands out from other gainers. It is the essential supplement to help you achieve your weight gain and muscle mass goals.
If you are into mass gain, the Muscle Mass 3000 is for you. Essential during this important period for an athlete, the protein from Muscle Mass 3000 will help to increase muscle volume, but also to take care of it. In fact, in addition to a high concentration of whey protein, this very high quality formula contains naturally sourced BCAAs, essential amino acids, as well as an excellent complex of vitamins and carbohydrates.
MUSCLE MASS 3000 TO INCREASE MUSCLE MASS
Muscle Mass 3000 is the solution for people who want to gain mass or who have difficulty gaining weight. This gainer is therefore ideal for people who have a fast metabolism, that is to say, who quickly burn the calories consumed. This gainer will help you increase your calorie intake and therefore help you gain mass.
If you struggle to consume enough calories, the Muscle Mass 3000 is for you. Indeed, to reach your weight gain or muscle mass goals, you must be in calorie surplus. That is to say that you must consume more calories than you burn, and this daily. To achieve such a result, it is necessary to manage to absorb large quantities of foods rich in carbohydrates. If you easily fall into a calorie deficit and find it difficult to gain weight, this task is even more difficult. Moreover, swallowing large quantities of food in order to gain mass is not easily achievable. Practical and easy to consume, Muscle Mass 3000 is the gainer that will help you increase your mass without having to gorge yourself on food.
Muscle Mass 3000 is the supplement that will allow you to reach an optimal caloric intake, while consuming quality nutrients. It is a supplement that provides protein and carbohydrate intake to help you gain muscle mass. It is thanks to its high caloric content that this supplement will help you achieve your mass or weight gain goals. Muscle Mass 3000 will make your life easier by allowing you to gain weight while filling up with good nutrients. This gainer will help you gain mass while helping you optimize your sports sessions. Indeed, by allowing you to increase your carbohydrate and quality protein intake daily, this gainer will promote mass gain and muscle development.
MUSCLE MASS 3000: AN OPTIMAL COMPOSITION
Taking Muscle Mass 3000 is the effective solution to help you effectively increase your muscle mass by increasing your caloric intake. This gainer will be the perfect companion to your workouts for a clean and successful mass gain. Thanks to Muscle Mass 3000 you will achieve a caloric surplus while consuming quality nutrients. With this gainer you consume all the macronutrients necessary for healthy and optimal mass gain.
Muscle Mass 3000 includes an explosive and complete combination of quality nutrients for optimized results. This complete gainer will allow you to increase your calorie intake, without hindering your performance.
The protein source of this gainer comes from whey, a protein filtered and stripped of its impurities through its manufacturing process. Ideal for optimally intensifying your muscle growth, whey protein contributes to the maintenance and development of muscle mass. Very easily digestible, this high biological value protein is associated with complex carbohydrates to allow you to increase your caloric intake and facilitate your mass gain.
The high biological value of Muscle Mass 3000 protein is ideal and includes a complete set of amino acids including BCAAs (L-Leucine, L-Isoleucine and L-Valine). From a natural source, these BCAAs will help you speed up the recovery process. In addition, this gainer also includes a set of 5 B vitamins. Contributing to the metabolism of proteins and carbohydrates, B vitamins provide a valuable advantage in a mass gain phase.
Muscle Mass 3000 is to be taken between meals, at lunchtime or after your sports session with water or milk (the latter allows an even greater caloric intake). Allowing a high caloric intake, this gainer is intended for experienced athletes and amateurs wishing to develop their muscle mass. Don't wait any longer and take advantage of all the benefits of Muscle Mass 3000, available in vanilla, Belgian chocolate, banana and strawberry flavors which will effectively contribute to your weight gain.
Ingredients
Maltodextrin, dextrose, whey protein concentrate (contains milk), flavouring, fructose, thickeners E412/E466, vit. B3 (Nicotinamide), sweetener E951, vit. B5 (calcium D-pantothenate), vit. B12 (Cyanocobalamin), vit. B6 (Pyridoxine hydrochloride), vit. B2 (Riboflavin). Contains a source of phenylalanine.

Allergen information
Contains milk.

Advice for use
1 to 3 pods of 50 g per day in 450 ml of water or whole milk. Consume between meals.
Cautionary note
Food supplement that cannot replace a varied and balanced diet and a healthy lifestyle. Keep out of reach of young children. Do not exceed the recommended dose.