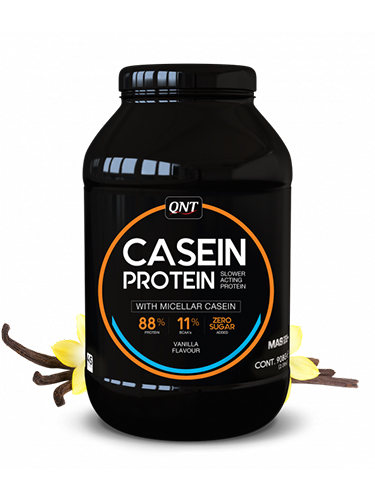 QNT Casein Protein (Vanille, 908g)

Quick overview
Slow-digesting protein.Contains micellar casein.Zero added sugar.
36,30 €
$ 39.93
$ 53.00
36.300000000000004

Ship to

calculate shipping cost
Secure and reliable payment with

QNT Casein Protein
Casein Protein from the MAS range is a casein composed of micellar casein and calcium caseinate allowing muscle maintenance. It contains between 82 and 87% protein and has an excellent amino acid profile including a high concentration of BCAAs. It is its complex manufacturing process that allows this protein to be digested more slowly within the body. Very pure thanks to its filtering process, it is also very creamy and therefore very easy to consume. Ideal for thedevelopment muscular and containing no added sugar, Casein Protein is available in chocolate, vanilla and tutti frutti flavors.
A CASEIN WITH THE OPTIMAL COMPOSITION
The particularity of the cases is its slow assimilation within the body. This characteristic allows it to be assimilated continuously in the body and therefore to improve the metabolism of the muscles. Casein Protein is a protein ideal for muscle development in addition to promoting better recovery. Composed of calcium caseinate and micellar casein, this formula contains the essential ingredientsmaintaining muscle mass. With a minimum of 82% protein, no added sugar and a very low lipid content, Casein Protein is suitable for any beginner or advanced athlete.
Casein Protein is a cases composed among other things of micellar casein. Having undergone no processing, this protein is very pure and has a high bioavailability (18 amino acids in all). It is associated with calcium caseinate, which is a casein filtered at high temperature. The latter is ideal in combination with micellar casein, as it promotes the digestion of amino acids. The mixture of these two caseins contained in Casein Protein promotes slow and continuous digestion in the body. The impact of this digestion will help improve muscle metabolism.
Its slow assimilation in the body is ideal for facilitating themuscle regeneration. It is therefore ideal for improving muscle metabolism. If you wantlosing weight, Casein Protein can also be your ally. Indeed, low in calories, it also has a high protein content and properties that increase the feeling of satiety. In addition, its low sugar and lipid formula makes Casein Protein the ideal supplement to support your weight loss goal by supporting the maintenance of your lean mass at the expense of your fat mass.
In addition, Casein Protein is also rich inBCAA. This contribution in essential amino acids will allow you to promote the recovery of your muscles. Indeed, the assimilation of these amino acids will allow you to maximize your results and will also allow your muscles to train better and longer. Containing all the essential amino acids, this high quality casein is therefore not only essential for the growth of your muscles, but also to promote muscle recovery. The action of this casein in the complete formula will help you in your quest for performance.
MAINTAIN YOUR MUSCLES AT NIGHT
Composed of calcium caseinate and micellar casein, taking this casein with a high protein level is ideal in the evening or between 2 meals. Thanks to its filtering process and its unique composition, it offers a slower digestion in the body. It is therefore preferable to consume it during the recovery phases, when the body only ingests very few nutrients. It is during these periods that the magic of growth can operate on the muscles. This is why it is important to ensure that the body is provided with the proteins necessary to maintain muscle mass.
In addition, its high protein content and slow assimilation allow a feeling of satiety which therefore delays the feeling of hunger that can harm your muscle development. Casein also facilitates recovery, which is why it is recommended to consume it before going to sleep in order to fight against muscle breakdown. Casein Protein can also be taken between two spaced meals or at breakfast time. It is during these long phases that this casein will ensure the maintenance of muscle mass by promoting the supply of protein over a long period of time.
Promoting recovery and slower protein digestion, this casein is one of the best supplements available to help stimulate muscle growth. Regular use of this casein blend will help improve muscle metabolism, ideal for supporting your goals of building muscle mass or losing weight.
Ingredients
protein from milk (calcium caseinate (contains milk), micellar casein (containsmilk)), aroma, coloring E162, sweetener E955.
Allergen information
Contains milk.

Advice for use
Mix daily 1 pod of 20 g to the brim with 250 ml of water or milk

Cautionary note
Do not exceed the recommended dose.