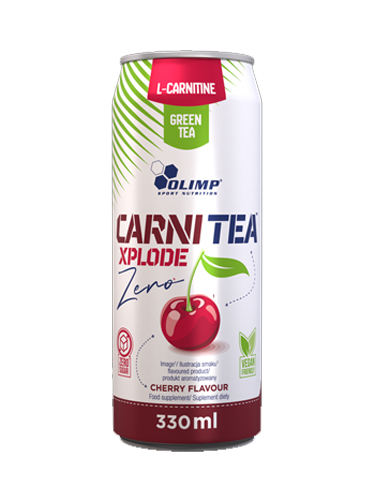 OLIMP SPORT NUTRITION Carni-Tea Xplode Zero (Cherry, 330ml)

Quick overview
Helps maintain normal blood sugar levels. Reduces the feeling of tiredness and weariness.
OLIMP SPORT NUTRITION Carni-Tea Xplode Zero
Highlight your slim figure! Don't give in to fatigue – in training, at work, on the go! Nothing is impossible with Carni Tea Xplode® Zero! Here is a delicious soft drink from Olimp Sport Nutrition with an optimal serving of L-carnitine (1000 mg).
Believe in yourself and show others that dreams do come true! Stay strong, stay fit, stay lean all year round with Carni Tea Xplode® Zero at your fingertips! Besides the aforementioned L-carnitine, the cherry-flavored formula is free of sugar and artificial colors and has been fortified with chromium, anti-fatigue ingredients and natural caffeine (from green coffee beans). In this multi-ingredient mixture, there will also be NALT (N-acetyl-L-tyrosine)! An ingredient that is gaining more and more popularity, a precursor to important neurotransmitters (dopamine and norepinephrine).
The composition of active ingredients is suitable for vegans and it is contained in a practical box (330mL), which you can always take with you. Thanks to its small size, you can easily store it in a handbag, travel bag, sports backpack or the glove compartment of a car. Finally, its fantastic taste (the drink is best drunk cold) not only quenches thirst on hot days, but above all provides valuable ingredients that help to:
maintain normal blood sugar levels, which can help reduction of food cravings (chromium)

maintaining good macronutrient metabolism (chromium)

reducing the feeling of fatigue and lassitude (vitamin B6)

maintaining good energy metabolism and appropriate psychological functions (vitamin B6)

maintaining good system functioning nervous (vitamin B6)
Ingredients
Water, carbon dioxide, acid – citric acid; L-carnitine, magnesium lactate, taurine, black carrot juice from concentrate, flavouring, green tea leaf extract – Matcha (Camellia sinensis (L.) Kuntze), N-acetyl-L-tyrosine, natural caffeine ( green coffee beans), sweeteners – sucralose, acesulfame K; chromium (III) chloride, cherry juice from concentrate, pyridoxine hydrochloride – vitamin B6.
Advice for use
1 serving per day (330 ml = 1 can). Better cold.
Cautionary note
Do not exceed the recommended daily dose. Food supplements should not be used as a substitute for a varied and balanced diet. A varied and balanced diet and a healthy lifestyle are recommended.
Carni Tea Xplode® Zero contains caffeine. Not recommended for children and pregnant women [caffeine content: 100 mg/daily portion (330 ml)]. The product should not be used while breastfeeding or in case of hypersensitivity to any of the ingredients in the formula. Do not consume other products containing caffeine at the same time (eg other food supplements, energy drinks, coffee). Do not exceed a daily intake of 400 mg of caffeine from all sources and 200 mg of caffeine in a single dose. Do not use before bedtime or during the hours immediately before bedtime. Keep out of reach of children.