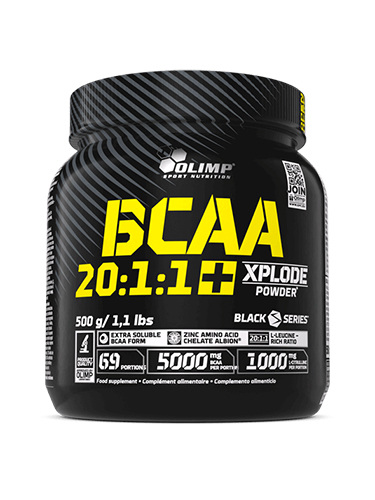 OLIMP SPORT NUTRITION BCAA Xplode Powder 20:1:1 (Pear, 500g)

Quick overview
High quality branched chain BCAA amino acids for active people

Contains a pack of vitamins & minerals intended to ensure the proper functioning of the nervous system

1000mg of L-citrulline for an incredible muscle boost
31,49 €
$ 34.64
$ 45.98
31.490000000000002
26,77 €
$ 29.44
$ 39.08
26.766500408

Ship to

calculate shipping cost
Secure and reliable payment with

OLIMP SPORT NUTRITION BCAA Xplode Powder 20:1:1
The Xplode ™ line is a range of supplements based only on innovative products, specially designed for those with ruthless demands: BCAA Xplode Powder ™ is no exception to this rule.
The composition of BCAA Xplode ™ 20: 1: 1 has been enriched with L-citrulline which together with the branched chain amino acids provides a powerful toning effect. The 20: 1: 1 dosage of the mixture also offers a high level of L-leucine, one of the most important BCAAs for muscle mass gain and not being synthesized by the human body, nor obtained through food. . This high content of L-leucine has been specially dosed by specialists, following their 25 years of experience, to meet the needs of professional athletes during their most intense exercises.
On the other hand the combo of minerals acting in synergy when taking, such as zinc, sodium and magnesium, as well as vitamin B6 included in the product make BCAA Xplode ™ 20: 1: 1 a complete and complete supplement which will meet all your expectations.
Ingredients
Branched chain amino acids (63.1% L-leucine, 3.15% L-valine, 3.15% L-isoleucine), 13.9% L-citrulline, acidity regulators - citric acid; flavors, sodium citrate, 1.3% magnesium oxide, sweeteners - acesulfame-K, sucralose; emulsifiers - lecithin (from soybeans); 0.1% zinc bisglycinate (Albion® amino acid chelate), 0.003% pyridoxine chloride - vit. B, dye: carotenoids (A) carmine (B), riboflavins (C), E150c (D), E150d (E), E133 (F), patent blue V (G), indigo carmine (H), chlorophyll and chlorophyllins (I), curcumin (J) anthocyanins (K), paprika extracts (L), betanin (M), charcoal (N).
(A) - (Z) - Depending on the fragrance of the product, the code (AZ) of the component used can be found next to the date of minimum durability (to be consumed preferably before).
Advice for use
Daily dose: a dose of 7.2g. Dilute a dose of 7.2g in 200ml of cold water. Consume preferably during and after training.
Cautionary note
Do not exceed the recommended daily portion. Food supplements are not a substitute for a varied and balanced diet. Keep away from heat and humidity. Keep out of the reach and sight of young children. Product not recommended for pregnant or breastfeeding women.