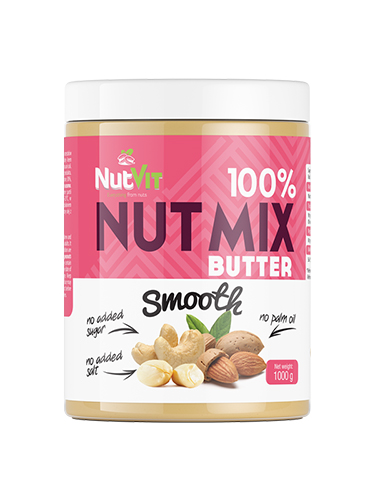 NUTVIT 100% Nut Mix Butter (Smooth, 500g)

Quick overview
No salt added. No sugar added. Does not contain palm oil!

NUTVIT 100% Nut Mix Butter
NutVit 100% Nut Butter Mix is ​​a unique blend of ground peanuts, cashew nuts and almonds that combines all the benefits and properties of eating these nuts. NutVit 100% Nut Butter Mix does not contain undesirable additives such as preservatives, dyes, additional sugar and salt. Perfect for preparing a high-energy breakfast or as a healthy addition to dishes and baked goods.
NutVit 100% Nut Mix Butter is obtained by roasting and grinding nuts. This process retains all the beneficial properties used in the production of the nut cream while making them more versatile in the kitchen. The peanuts contained in the cream are known to reduce pressure and have a beneficial effect on the digestive system, especially the stomach and intestines. Cashew nuts are very rich in oleic acid and lutein, carotene and vitamins, have a positive effect on the organs of vision. Almonds, on the other hand, have an alkalizing effect, affect the regulation of sugar and cholesterol levels and are rich in substances with antioxidant activity.
Ingredients
Roasted peanuts 60%, roasted cashews 30%, roasted almonds 10%.
Allergen information
The product may contain other nuts, milk (including lactose), soy, sesame seeds, oats, eggs, crustaceans, fish.
Advice for use
Consume as needed.