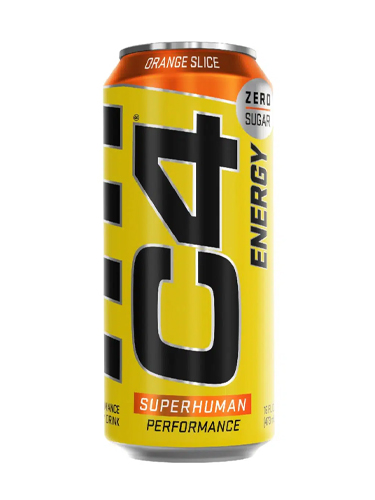 CELLUCOR C4 Energy Carbonated (Orange Slice, 500ml)

Quick overview
Help support muscular endurance and combat muscular fatigue, with clinically studied CarnoSyn Beta-Alanine.
2,19 €
$ 2.41
$ 3.20
2.19

Ship to

calculate shipping cost
Secure and reliable payment with

CELLUCOR C4 Energy Carbonated
There's energy drinks…and then there's C4 Energy. C4 Energy's incredible flavor is made with no sugar, zero calories, no artificial flavors, and no compromise on taste. Featuring 200 MG of caffeine and proven ingredients like CarnoSyn Beta-Alanine and BetaPower Betaine, you are about to experience explosive energy, hydration, and endurance.
EXPLOSIVE ENERGY — Unlock explosive energy with 200mg of caffeine for superhuman performance.

MUSCULAR ENDURANCE — Supercharge endurance with the full-body sensory experience of fatigue-fighting CarnoSyn® Beta-Alanine.

MUSCLE CELL HYDRATION — Naturally-derived betaine from beets, BetaPower® Betaine helps maintain cellular hydration within the muscle during periods of intense stress*.

INCREDIBLE FLAVOR — Refreshing and mouthwatering flavors and made without artificial colors or dyes.
Ingredients
Water, Carbon Dioxide, Acidity Regulators (Citric Acid and Malic Acid), L-Arginine (0,21%), Taurine (0,21%), Natural Flavouring, Betaine (BetaPower), Sweeteners (Sucralose and Steviol Glycosides), Caffeine Anhydrous, Niacinamide, Cyanocobalamin.
Advice for use
Consume one can of C4® ON THE GO 20-30 minutes before dominating exercise... and/or life. Some individuals may experience a harmless tingling sensation, which is attributed to beta alanine.
Cautionary note
Do not consume this product if you are pregnant or nursing. Not intended for children. Recommended for adults. Store in a cool, dry place. Do not freeze.