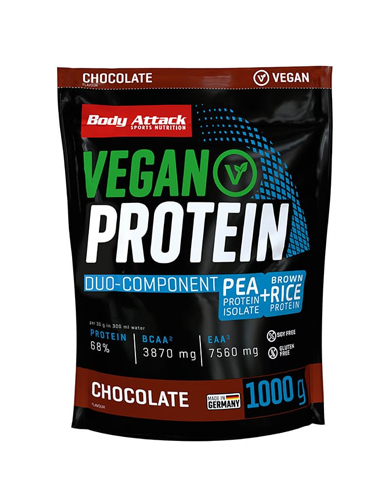 BODY ATTACK Vegan Protein 90 (Chocolat, 1000g)

Quick overview
Multi-component vegan protein
9,060 mg EAA and 4,650 mg BCAA per serving
Aluminum-free bag with convenient zip closure
26,99 €
$ 29.69
$ 39.41
26.99

Ship to

calculate shipping cost
Secure and reliable payment with

BODY ATTACK Vegan Protein 90
Highest quality plant-based protein! This new multi-component vegan protein brings you concentrated plant-based power for your daily protein needs! The best sources of vegetable protein combined to bring you the best possible taste. 9,060 mg of EAA and 4,650 mg of BCAA are contained per serving - so you get your daily essential amino acids fast. The resealable foil-free bag with a modern zipper ensures that your proteins always stay fresh. Vegan, eco-friendly and tasteful. What more?
Ingredients
Pea protein isolate (47%), rice protein * (35%), flavor, highly defatted cocoa powder (7.7%), sweeteners (sucralose, acesulfame K). *Brown rice.
Advice for use
For one serving, add 30g of powder (3-4 tablespoons) to 300ml of water.
On training days: Drink about 30 minutes before or after each effort.
On non-training days: Drink in the morning or evening.
Cautionary note
Keep out of the reach of young children. The recommended daily dose should not be exceeded. Food supplements should not be used as a substitute for a balanced and varied diet. We recommend a balanced and varied diet as well as a healthy lifestyle. If you have any health concerns or questions about use, consult a physician or nutritionist.