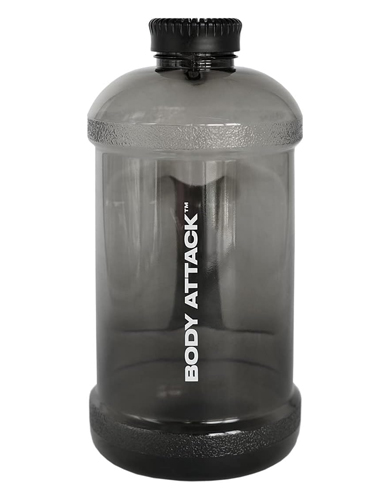 BODY ATTACK Gallon (Black, 2,2L)

Quick overview
The ultimate portable water tank!

9,49 €
$ 10.44
$ 13.86
9.49

Ship to

calculate shipping cost
Secure and reliable payment with

BODY ATTACK Gallon
Are you ready to attack your thirst and stay fully hydrated during your workouts and on the go? The BODY ATTACK Gallon 2.2L is here to support you! This "portable water reservoir" has a capacity of over 2 liters, allowing you to keep your thirst at bay, wherever you are.
Key Features:
2.2 liter capacity: With such a capacity, you'll never have to worry about running out of water during your intense workouts.

Without BPA and DEHP : Thisheart is free from these potentially harmful substances.

Stylish and waterproof design: Its stylish design fits perfectly into your gym bag and you can carry it without fear of leaks.
Why is the BODY ATTACK Gallon 2.2L suitable for you:
For your daily water needs: If you want to make sure you stay hydrated all day long.

To facilitate taking water-soluble food supplements: You can mix your supplements directly in the Gallon.

For athletes and sportspeople: It helps you meet your increased water needs during training.
The Gallon BODY ATTACK is the ultimate portable water reservoir. Whether you're working out, taking a walk, or traveling, it ensures your water tank is always full, ready to attack your thirst.