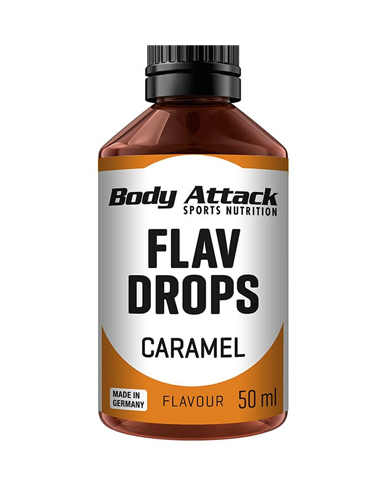 BODY ATTACK Flav Drops (Caramel, 50ml)

Quick overview
Liquid flavours for food & beverages. Pipette-free preparation. Calorie and sugar free.

6,29 €
$ 6.92
$ 9.18
6.29

Ship to

calculate shipping cost
Secure and reliable payment with

BODY ATTACK Flav Drops
Not in the mood for bland, boring food? Body Attack Flav Drops - the upgrade for your favourite foods and drinks provides new palate highlights. The Liquid flavours are completely free of calories and sugar and your new best friend in calorie-controlled phases. The aroma drops are extremely rich (a few drops are enough), vegan and of course free of colorants and preservatives. Flav Drops belong in every kitchen, even yours - just flav(our) it!
FLAV DROPS - HERE COMES THE PLEASURE!
Become a magician and transform water, milk, shakes, baked goods, curd and yoghurt into sweet taste experiences with our Flavour Drops. With the highly concentrated flavour drops, just a few drops are enough to give the desired food or drink a delicious or more intense flavour. A big plus point is their practical pipette-free dosage. Our Flav Drops are ideal for all of your sports supplements. Whether Protein Pancakes or Protein Shakes - the Flav Drops allow an uncomplicated flavouring of your sports supplements - flavour your life!
AROMATICS: NATURAL - WITHOUT SUGAR
If you want to ban sugar and fat from your diet, but don´t want to have boring and bland meals on the table - then go for Flav Drops! Each droplet contains the power of the pleasant sweetness from the sweetener sucralose. No colourings, sugar, fat or calories - the liquid flavours of BODY ATTACK are the must have for health-conscious gourmets and ideal for vegans.
PIMP YOUR CAKE
You can´t say no to pastries? With the sugar-free premium flavours from BODY ATTACK you don´t have to! Our Flav Drops are ideal for calorie-free sweetening and refining your baked goods. Cakes, biscuits and muffins can be perfectly refined with the flavorings - turn your cake into a lemon cake and much more. There are no limits to your creations. Try our low carb cakes here.
BUT PLEASE WITH COFFEE
For coffee lovers a dream comes true with Flav Drops. With just a few drops, you can conjure up a real taste highlight from a normal milk coffee that can compete with all the famous coffee house chains. The icing on the cake - the natural aromas are completely without added sugar. Instead, your coffee will sweeten your day. Whether at a friend´s house, in a café or as a coffee- to -go on the way to work - Flav Drops are your ideal companion.
Ingredients
Water, Flavouring, Sweetener (Su- cralose).

Advice for use
Stir 5 to 10 drops to one's own taste into below mentioned food.
Cautionary note
If kept unopened in a cool, dry place, best before/Lot No.: see imprint. Once opened, use
up quickly. Keep away from direct heat and light.