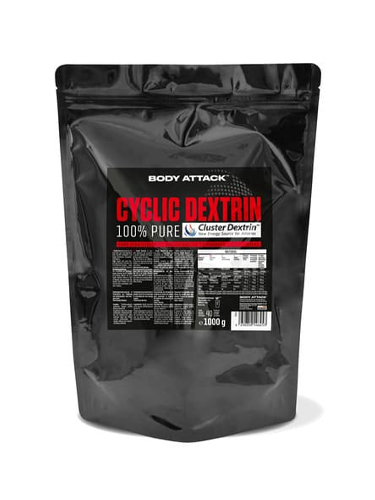 BODY ATTACK Cyclic Dextrin (1000g)

Quick overview
An ideal solution to obtain fast and sustainable energy
29,99 €
$ 32.99
$ 43.79
29.99

Ship to

calculate shipping cost
Secure and reliable payment with

BODY ATTACK Cyclic Dextrin
BODY ATTACK Cyclic Dextrin is a cutting-edge energy source designed for athletes looking to push their limits during their intense training sessions. This innovative product is formulated with 100% highly branched cyclic dextrin, also known as Cluster Dextrin™. It offers an ideal solution for obtaining fast and lasting energy, perfectly suited to pre- and post-workout sessions.
With BODY ATTACK Cyclic Dextrin, attack your limits and benefit from a high-quality source of energy to optimize your sporting performance. Prepare to face each challenge with determination!
Ingredients
100% highly branched cyclic dextrin (Cluster Dextrin™).
Allergen information
No information on allergens is provided in the available information.
Advice for use
To get the best results from your workout, we recommend mixing 25g of BODY ATTACK Cyclic Dextrin powder in 300ml of water. This preparation can be consumed twice a day, one serving before your workout and one serving immediately after. The powder dissolves easily, avoiding problems with lumps.
You can also incorporate BODY ATTACK Cyclic Dextrin into your pre-workout boosters, post-workout shakes or meals, hot or cold, for a consistent, high-quality source of energy.
Cautionary note
Store unopened product in a cool, dry place. Please refer to the expiration date and batch number indicated on the packaging.

Once opened, be sure to use the product promptly.

Protect the product from direct heat and exposure to solar radiation.