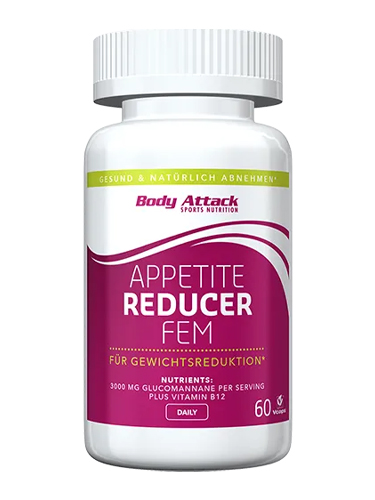 BODY ATTACK Appetite Reducer Fem (60 caps)

Quick overview
Appetite reducer specially developed for women.
10,39 €
$ 11.43
$ 15.17
10.39

Ship to

calculate shipping cost
Secure and reliable payment with

BODY ATTACK Appetite Reducer Fem
An effective way to lose weight! FEM Appetite Reducer especially for women is your weight reduction expert.
What's in the capsules?
Everything is purely vegetable! Body Attack relies on the power of dietary fiber glucomannan from konjac root and gives cravings no chance! Opt for the harmony of a low-calorie diet, proper exercise and the FEM appetite suppressant.
Appetite Reducer FEM is the perfect choice to support the following goals:
Accompaniment during the weight loss process

Accompaniment during the shaping phase

Reduce calorie intake
Appetite Reducer FEM is suitable for:
Women concerned about their physical shape and their figure

Women who want to diet

Women who want to lose weight or reduce body fat
How does Appetite Reducer FEM work?
The glucomannan contained in the capsules swells several times in the stomach. Due to the appearance of the feeling of satiety, you eat less between and during your meals. Combined with workouts, you will be in a calorie deficit. Sound simple? It's simple!
In a successful dieting or definition phase, food quality is just as important as quantity. When it comes to quality, the FEM appetite reducer convinces exclusively with perfectly balanced ingredients on a purely herbal basis.
Dietary fiber from konjac root - or more specifically glucomannan - works in the capsules. As bulking agents, soluble dietary fibers bind water like a kind of sponge and thus ensure a better feeling of satiety in the stomach, which protects you from possible cravings.
Tasteless and low in calories - the ideal support for your weight loss: konjac root. The low calorie and tasteless plant is the ideal support during the slimming phases. Originally from East Asia, it has been an integral part of Asian cuisine and Far Eastern medicine for centuries. Convince yourself of the must-have for natural weight loss.
In order to fully utilize the potential of konjac root for weight loss, it's all about glucomannan. It is precisely this plant power that is at work in this Appetite Reducer FEM weight loss aid. You get it all in perfect form directly in capsule form, for convenient and beneficial taking. So you save time and calories at the same time!
Ingredients
Glucomannan (64.3%), Hydroxypropyl methyl cellulose (capsule shell), separating agent (calcium carbonate), cyanocobalamin, color (titanium dioxide).
Advice for use
Take 2 capsules, 3 times a day, with enough water (+/- 300ml).
Cautionary note
The capsules should be taken with plenty of water so that the glucomannan reaches the stomach safely. People with dysphagia should pay special attention to a good water supply. Not suitable for pregnant, breastfeeding women and children. Suitable for overweight people.
Alternative Products
New products coming soon...