5 SUPER EASY AND QUICK PROTEIN RECIPES FOR HALLOWEEN
10/27/2021
Adrien Materne
Halloween is just around the corner and you still don't know what to do to impress your guests with your cooking skills. No more worries, Tonic Food is here to point you in the right direction :)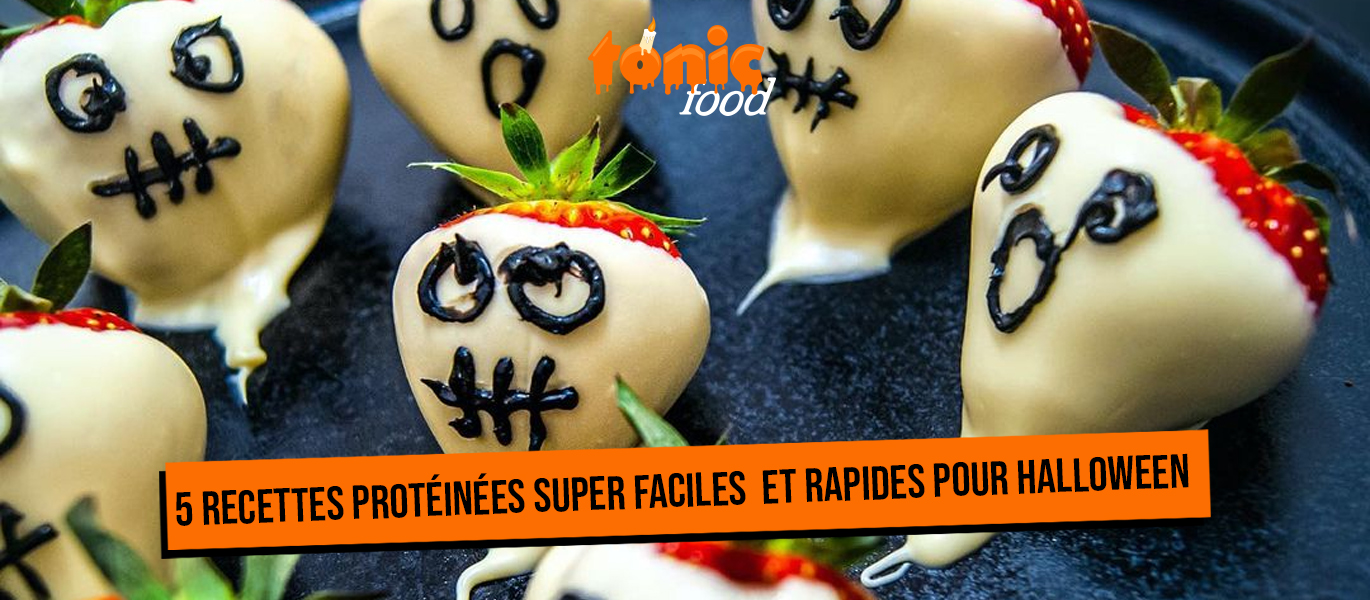 1.Protein ghost-strawberries
A simple and effective way to mark spirits for Halloween. Get some strawberries and dip them in a white protein spread ( we recommend the chocolate-white nanosupps spread). Use a black edible marker to decorate and voila, here you are with the most ghostly strawberries on the street!
2.A veggie-monster salad
Finally a salad that will delight young and old, especially during this Halloween period! You will need small elongated peppers to make the "pumpkins", cucumbers to make the monsters, kiwi fruit for the brains, carrots for the mini pumpkins and small Italian bread sticks for the spider web. Add a little white protein spread to decorate it all and with a little dexterity and creativity you are the proud owner of a monster salad!!
3.Protein monstro-pancakes
If classic pancakes have been boring you for a long time, then it's time to take it to the next level. Admire the "monstro-pancakes". Simple and effective, this monster made up of colorful pancakes will please everyone!
For super healthy pancakes, mix 150g white sweet potato powder with 9 whole organic eggs, divide the mixture into several containers and add a little food coloring. Cook your different mixes individually in a non-stick pan and voila .. The monstro-pancake is born !!
4.Protein skeleton cookies
There is a bit of work there, but nothing insurmountable. Even though they look intricate, they are quite easy to decorate.
Here is the complete cookie recipe: 200g of sugar, 200g of vegan butter, 160g of Golden syrup, 60ml of soy milk, 4 teaspoons of cinnamon, 1/2 teaspoon of nutmeg, 1/4 teaspoon of cloves, 1 teaspoon of baking soda, 500g of sweet potato flour, 1 teaspoon of salt, white chocolate spread.
Melt the sugar, butter, golden syrup, milk and spices together in a large saucepan. Bring to a boil and stir in the baking soda. Remove from the heat and mix well. It will froth and bubble. Let cool. Stir in the sweet potato flour and salt and mix until you get a smooth paste. Chill in the refrigerator for 1 hour. Roll out to about 5mm thick and cut into gingerbread man shapes. Bake at 160 ° C for 12 minutes. Cool on a wire rack then decorate like skeletons with the spread.
There you go, you have little skeletons that will helps you impress children with "panache".
5. (BONUS) Protein spooky-nachos
A plate that imposes its style, guaranteed effect! That may not be enough to win "Top-Chef" but it is a start.
Take a pumpkin, some protein chips, two very ripe avocados. Crush your peeled avocados in a container, carve your pumpkin and tadam tadam, you are officially the king of Halloween.
You are now ready to enjoy your Halloween meals, with these original ideas you can be sure to "wow" those around you.
Cover photo: Gourmet Magazin