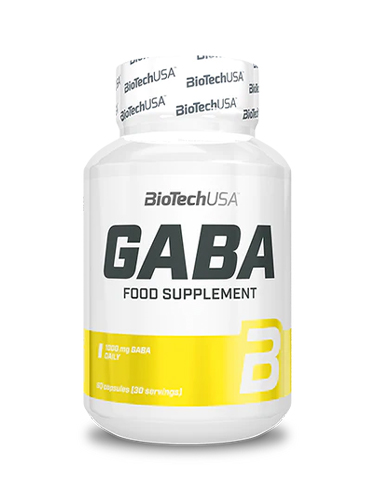 BIOTECH USA GABA (60 caps)

Quick overview
Essential mental and physical support
12,50 €
$ 13.75
$ 18.25
12.5

Ship to

calculate shipping cost
Secure and reliable payment with

BIOTECH USA GABA
Discover BIOTECH USA GABA capsules, a powerful source of gamma-aminobutyric acid (GABA) that can support your overall well-being. Each capsule contains 1000 mg of pure GABA, providing a convenient solution for those looking to increase their GABA intake. These capsules can be taken by athletes, men, women, and even as a supplement to a multivitamin complex. It plays an essential role in regulating the nervous system and can contribute to relaxation and mental well-being.
By choosing BIOTECH USA GABA capsules, you are choosing a high-quality solution to support your mental and physical well-being. This convenient dietary supplement can be incorporated into your daily routine to help you achieve your health and wellness goals.
Ingredients
Gamma-aminobutyric acid (GABA)
Capsule shell: gelatin, glazing agent (shellac), color (iron oxides and iron hydroxides), acidity regulator (ammonium hydroxide), acidity regulator (potassium hydroxide)
Agent de charge : gel the cellulose
Anti-caking agents: magnesium salts of fatty acids, silicon dioxide
Allergen information
This product is made in a facility that uses milk, eggs, gluten, soy, peanuts, celery, fish, shellfish, and sulfur dioxide.
Advice for use
Take 2 capsules per day, preferably with a large glass of water, before bed. Do not exceed the recommended daily dose. Food supplements should not be used as a substitute for a varied and balanced diet or a healthy lifestyle. Keep this product out of the reach of children.
Cautionary note
Consult a healthcare professional before starting any new dietary supplement, particularly if you have any pre-existing medical concerns.
If you are pregnant, breastfeeding, taking medication, or have a medical condition, consult a healthcare professional before using this product.
Do not use this product if you are allergic to any of the ingredients.
Store in a cool, dry place out of direct sunlight.