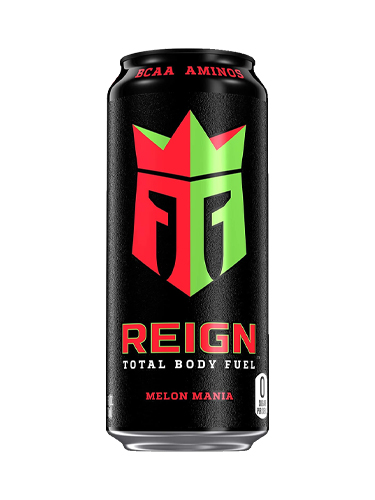 REIGN BCAA (Melon Mania, 500ml)

Quick overview
Natural caffeine, BCAA, Vitamin B3, B6 and B12, Electrolytes, Zero sugar, zero calories and zeroflavor artificial.
2,49 €
$ 2.74
$ 3.64
2.49

Ship to

calculate shipping cost
Secure and reliable payment with

REIGN BCAA
Blended with BCAAs, 200 mg of natural caffeine and electrolytes, it is designed to support your active lifestyle.
It contains no sugar, only 16 calories and no artificial flavors or colors.
This drink has the sweet flavor to bring real success to your day!
Ingredients
Carbonated Water, Acid (Citric Acid), Acidity Regulators (Sodium Citrate, Potassium Citrate), BCAA (0.2%) ( L-Leucine, L-Isoleucine, L-Valine), Natural Flavors, Sweeteners (Sucralose, Acesulfame K), Maltodextrin, Preservatives (Sodium Benzoate, Potassium Sorbate), Natural Caffeine (0.04%), L-Arginine ( 0.01%), Vitamins (B3, B6, B12).

Cautionary note
High caffeine content (40mg / 100ml). Not suitable for children, pregnant women and people sensitive to caffeine.