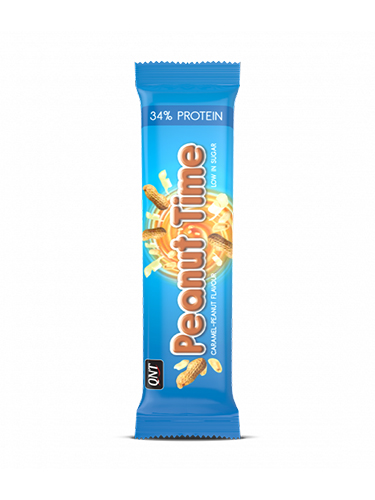 QNT Peanut Time (Caramel, 60g)

Quick overview
Protein bar coated with white chocolate
34% protein and only 2.4 grams of sugar per bar
Delicious taste without the guilt
QNT Peanut Time
Sometimes during the day, you get hungry and crave a snack, looking for a tasty treat that won't harm your hard-earned figure. PEANUT TIME is the snack for you! It's a delicious protein bar, made from peanuts, that can fuel your muscles with 34% quality protein and only 2.4 grams of sugar. It's an amazing quality for a delicious and balanced snack that's perfect for any time of day. Wait no longer and succumb to the delight of our PEANUT TIME bar!
A BALANCED PROTEIN BAR
PEANUT TIME is a truly balanced snack, as it contains 20 grams of quality protein (from a mixture of different proteins), 20 grams of carbohydrates (but only 2.4 grams of sugar) and only 12 grams of good fat. The balance between the different nutrients makes this bar perfect for any dietary program and its delicious taste will appeal to the whole family. Its high protein content also makes it the ideal ally for the goal of building lean muscle mass. Try this protein bar and you won't be able to go without it!
The 60 grams size and convenient format is perfect for a snack that can be taken and eaten anywhere: at work, at school, hiking or playing outdoor sports. Its great taste makes it a real alternative to ordinary snacks without the high fat and sugar content usually associated with them. If you want to stay in shape while having fun, this is the snack you're looking for. Indulge yourself smartly with PEANUT TIME!
A HIGH-PERFORMANCE PROTEIN BAR
If you are an athlete or active person, there are many benefits to eating a high-protein, low-sugar snack. Protein contributes to the maintenance and growth of muscle mass, a key factor for anyone looking to improve their performance. The low sugar content is beneficial because it limits blood sugar spikes which are associated with many adverse health issues. As well as providing good nutritional contribution, this bar also provides energy to keep the pace, whether in training or in everyday life.
PEANUT TIME is the ultimate snack when it comes to a great combination of nutritional value, great taste and convenience. This ultra convenient protein bar is perfect for the whole family and any time of day to give you a fun break without ever feeling guilty.
Ingredients
Milk protein, sweetener (E965), collagen peptides (bovine), humectant (E422), cocoa butter, peanuts 9%, whole milk powder, water, sweetener (E965 syrup), cocoa mass, soy protein, peanut paste, sunflower oil, flavour, emulsifier lecithins (soy, sunflower), salt, colour: plain caramel, sweetener (E955).
Allergen information
Contains milk, peanuts, soy. May contain traces of gluten, egg and nuts.
Advice for use
Preferably between meals or after a training session