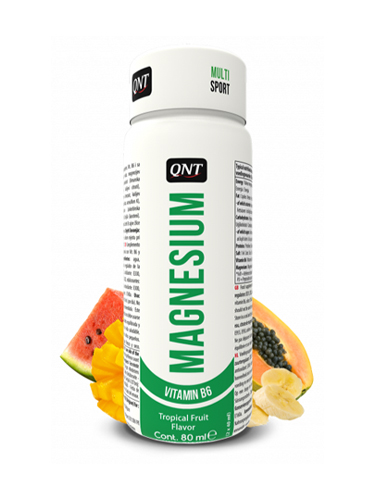 QNT Magnesium + Vit B6 (Tropical Fruit, 80ml)

Quick overview
Normal muscle function. Reduction of fatigue. Normal bone maintenance
2,11 €
$ 2.32
$ 3.08
2.11

Ship to

calculate shipping cost
Secure and reliable payment with

QNT Magnesium + Vit B6
WHY TAKE MAGNESIUM + VIT. B6?
Have you ever faced a situation where you feel a lack of energy or very tired? A lack of minerals and vitamins can be the reason for this situation. Minerals and vitamins are of paramount importance for the proper functioning of the body and for general well-being. Throughout the day, the body eliminates minerals and vitamins, such as magnesium and vitamin B6. This is why a contribution is essential in order to bring an additional boost of vitality to the body. Taking this supplement combining magnesium and vitamin B6 can be the solution to counter these effects. Thanks to its action, you will be able to regain all your ardor and you will be ready to face your challenges.
Today, the foods we eat do not always contain enough nutrients for our body. It is therefore important to ensure that you make up for your losses in nutrients with essential properties for the body. Thanks to their action on bones and muscles, magnesium and vitamin B6 are ideal for the good health of the body.
WHAT ARE THE BENEFITS OF MAGNESIUM AND VITAMIN B6?
Magnesium is a mineral with many benefits. It intervenes in the transformation of food into energy, contributes to the transmission of nerve impulses, regulates the heart rate and participates in the production of insulin. Along with vitamin B6, it also plays an important role in proper muscle function by stimulating protein synthesis and muscle contraction. Its action on the muscles does not stop there, since it also allows good blood circulation, beneficial for the muscles and general well-being.
The combination of magnesium and vitamin B6 is effective in helping to calm the nervous system (stress and restlessness), reduce premenstrual syndrome (PMS), maintain a healthy heart and normal blood pressure. In addition to contributing to proper energy and metabolic functioning, it is also useful for treating migraines and relieving pain caused by muscle cramps.
All these properties are found in this Magnesium + Vit supplement. B6 in a small ready-to-drink format to facilitate its assimilation. In addition, this easy and practical format allows you to take it everywhere with you in order to enjoy its benefits at any time.
Thanks to the beneficial action of its essential ingredients for the body, this supplement is ideal for all confirmed or beginner athletes as well as any active person. This supplement, which helps you achieve sufficient levels of magnesium and vitamin B6, is the ideal ally to help you strengthen your daily life and replenish your vitality.
Ingredients
Water, magnesium citrate, acidity regulators: E331, E332, acidifier: E330, preservatives: E211, E202, sweeteners: E955, E950, aroma, antioxidant: E300, vitamin B6, colour: E160a.
Cautionary note
Food supplement that cannot replace a varied and balanced diet and a healthy lifestyle. Keep out of reach of young children. Do not exceed the recommended dose.