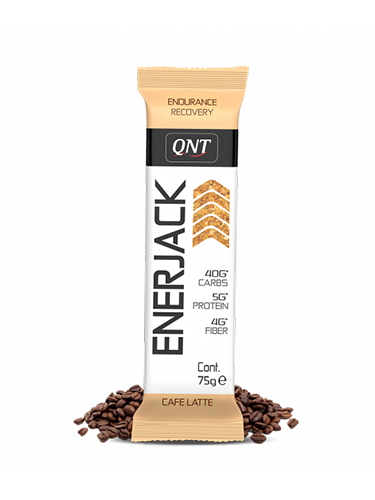 QNT Enerjack (Caffé Latte, 75g)

Quick overview
The perfect energy snack. Sustainable release of energy. Rich in fiber. Ideal for endurance and recovery.

1,71 €
$ 1.88
$ 2.50
1.71

Ship to

calculate shipping cost
Secure and reliable payment with

QNT Enerjack
Do you want to recharge your batteries and reach a higher level in your goals? Discover Enerjack, the QNT bar that allows you to recharge your batteries with its quality ingredients. Rich in carbohydrates, this bar also containing a high content of fiber and protein will act as the ideal fuel for a continuous release of energy. Practical and easy to take everywhere with you, this energy bar coated with a double layer of chocolate will seduce you from the first bite. Do not wait any longer and let yourself be tempted by this delicious energy bar with many benefits.
ENDURANCE AND RECOVERY
With its optimal composition, the Enerjack is the practical solution for all those looking for a long-lasting energy supply. It is thanks to its high carbohydrate content that this bar provides energy during intense and sustained efforts. Its optimized formula will help you achieve your goals by ensuring optimal energy intake.
With its chewy texture and delicious taste combining oats and chocolate, the assimilation of the Enerjack bar allows you to maximize your carbohydrate energy stores. This is the ideal energy bar for all endurance sports practitioners or people looking for a source of energy.
ENERGY RELEASE
Featuring a high level of quality carbohydrate, the Enerjack bar contains oats, the main source of carbohydrates for an ideal supply of healthy calories. Naturally rich in carbohydrates and containing a high biological value in protein and fiber, oats allow you to store calories in a healthy way. Its addition will allow you to release energy in a sustainable way to support you during your workouts. This energy will accompany you throughout your workouts to help you achieve your goals.
The action of the oats contained in the Enerjack energy bar will help reduce the slack that can appear during training requiring endurance. It is thanks to its low glycemic index that oats allow a release of energy over the length. Indeed, its contribution will promote a more balanced production of insulin. As a result, glucose will be able to act as a sustainable source of energy, without being stored as fat. Thanks to its formula rich in oats, Enerjack will help you maintain your performance over time.
FIBER AND PROTEIN
In addition to its high concentration of carbohydrates, essential for your energy supply, the Enerjack bar also contains quality fiber and protein. The protein will support the maintenance and development of muscles. During your sports sessions, muscle fibers are put to the test, and the supply of protein will act as fuel to help the muscles to rebuild. In addition, the protein will directly feed the lean mass and not the fat mass, which is ideal for your energy metabolism.
The Enerjack Energy Bar is also rich in fiber, an equally important nutrient for the body. Their benefits are particularly felt at the level of digestion. In addition to promoting intestinal transit, fiber also allows better blood sugar control. Fibers are therefore incomparable allies for the well-being of your body which will in turn be reflected in your performance.
SUPPORTING YOUR GOALS
The Enerjack energy bar is the ideal partner if you practice endurance sport. Its optimal composition and tasty chocolate coating will act as the ideal support for your performance in addition to delighting your taste buds. The Enerjack will help you level up and help you achieve your goals. To be enjoyed before, during or after your training session, the Enerjack is the ideal solution to your search for extra energy.
Ingredients
Oats, brown sugar syrup, vegetable margarine (palm oil, rapeseed oil, water, emulsifier: E471), chocolate flavoring (13%) (sugar, palm oil, whey powder (contains milk), wheat (enriched with calcium, iron, niacin, thiamine), lean cocoa powder, emulsifiers: soy lecithin & E476, natural flavor), sweetened condensed milk (skimmed milk, sugar), antioxidant: rosemary extract.
Allergen information
Contains soy, milk and gluten. May contain traces of barley, egg, peanuts, tree nuts and sulfur dioxide.
Advice for use
Before, during or after the effort.