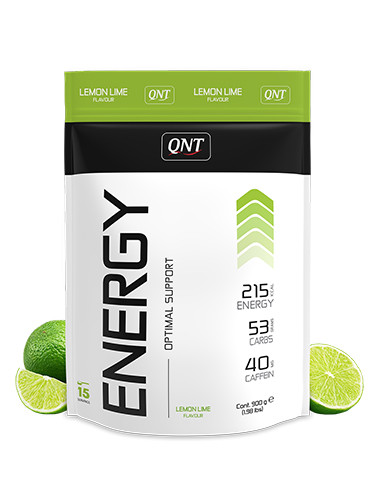 QNT Energy Powder (Lemon Lime, 900g)

Quick overview
Fast and sustainable energy. Helps focus. 53g of high quality carbohydrates per serving. Enriched with minerals and vitamins.
17,91 €
$ 19.70
$ 26.15
17.91
15,22 €
$ 16.75
$ 22.23
15.2235

Ship to

calculate shipping cost
Secure and reliable payment with

QNT Energy Powder
Blend of high quality carbohydrates for performance in endurance sports. A formula that helps maintain normal blood sugar levels during training and replenishes muscle glycogen stores. A carbohydrate recharge that increases endurance and performance during prolonged exercises.
Ingredients
Dextrose, maltodextrin, sucrose, fructose, acidity regulator: E330, anti-caking agent: E551, tricalcium phosphate, trisodium citrate, flavor, sodium chloride, vitamin C, colors: E160a, E141, sweetener: E955, caffeine, vitamins: B3, B5, B6, B2, B1.
Advice for use
Mix 65 g of powder (4 scoops) with 500 ml of water. Use before and during exercise.
Cautionary note
Do not exceed the recommended dose. This food supplement should not replace a balanced and varied diet and a healthy lifestyle. Keep away from young children. Store in a cool, dry place.