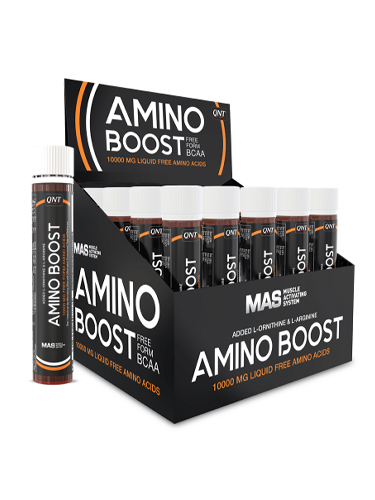 QNT Amino Boost 10000mg 20x25mL (Orange)

Quick overview
Rapid absorption. Accelerated recovery. Helps muscle growth.
35,15 €
$ 38.67
$ 51.32
35.15

Ship to

calculate shipping cost
Secure and reliable payment with

QNT Amino Boost 10000mg 20x25mL
Amino Boost is an amino acid supplement in the form of a 25 ml ampoule. From the MAS range, each of its ampoules contains 10,000 mg of pure amino acids in free form, with a high concentration of BCAAs. For even greater efficiency, its formula is highly concentrated in L-Ornithine, L-Arginine and it has also been enriched with vitamins. This food supplement is ideal for active people who want real support for the development and maintenance of their muscle mass. In addition, its action will contribute to optimal recovery after your workout.
FAST-ABSORBING AMINO ACIDS
Amino Boost is available in the form of an ampoule to be consumed very easily before or after training. The ampoule can be consumed as it is or after being diluted with water. Its liquid form was chosen because it allows very rapid absorption within the body, a characteristic that will make its action almost immediate.
Consumed before your workout, this phial will act as an ideal pre-workout thanks to the many benefits it will bring to the body. In fact, each ampoule of Amino Boost contains 10,000 mg of amino acids, important nutrients for muscle growth and recovery. Being the basis of proteins, amino acids are extremely important for muscle fibers. Their assimilation will stimulate a number of metabolic processes within the body.
Amino Boost features a set of 18 different amino acids, 3 of which (L-Glycne, L-Arginine and L-Ornithine) are found on a larger scale. Its formula also includes BCAAs (L-Leucine, L-Isoleucine and L-Valine), essential amino acids that the body does not know how to produce and which must be provided by the daily diet. They are very important, especially during intense workouts where you need fast and effective recovery. BCAAs are the essential elements for building muscle and their absorption in a liquid form allows an acceleration of the recovery process. Their effects and their presence in the Amino Boost allow this ampoule to be a very effective post-workout partner.
A FORMULA RICH IN L-ARGININE, L-GLYCINE AND L-ORNITHINE
Thanks to its rapid action and its rich amino acid content, Amino Boost is the ideal supplement for all athletes wishing to speed up their recovery after intense effort, while helping their muscle mass to develop in the best conditions. To support you in your efforts, the Amino Boost formula is also enriched with L-Arginine, L-Glycine and L-Ornithine, three important and very valuable amino acids for athletes.
You first find L-Arginine, an amino acid that promotes the secretion of growth hormone. It is also from this amino acid that the body will produce nitric oxide and thus allow an improvement in blood circulation. This effect will stimulate muscle growth and contribute to increased strength. You will also find a high content of L-Glycine, a non-essential amino acid contributing to many metabolisms in the body, including the metabolism of creatine. In addition, its assimilation promotes good muscle recovery. The third amino acid with a high content is L-Ornithine. The action of this amino acid will boost your strength and also help increase your energy levels.
PROTEIN AND VITAMIN SUPPORT
To promote optimal muscle development and maintenance, Amino Boost also allows you to fill up on protein. Ideal for the maintenance of your muscles, the contribution of protein combined with these amino acids will help you rebuild and tone your muscle mass.
Finally, to promote the immediate action of this ampoule, we have added a vitamin B complex, the absorption of which will increase the effects of the amino acids tenfold. These vitamins will also play an important role in proper muscle function by stimulating protein synthesis and muscle contraction.
Convenient and easy to take with you, the ready-to-drink format of this Amino Boost ampoule allows rapid absorption of its ingredients into the body for explosive effectiveness. For even easier consumption, this bulb has been developed in a mandarin orange flavor that will delight your taste buds. Thanks to the beneficial action of its formula, this supplement is the ideal ally to help you achieve your goals and surpass yourself.
Ingredients
Water, free amino acids, acidifier: E330, flavourings, sweeteners: E951 (contains a source of phenylalanine), E952, E950, E954, preservative: E200, Vit. B5 (D-calcium pantothenate), Vit. B6 (pyridoxine HCL), Vit. B1 (thiamin mononitrate).
Advice for use
1 vial per day after training (to be diluted with 200ml of water)

Cautionary note
Food supplement that cannot replace a varied and balanced diet and a healthy lifestyle. Keep out of reach of young children. Do not exceed the recommended dose.